A cargo ship that ran aground briefly in Egypt's Suez Canal was refloated with no disruption to traffic, according to shipping agency Leth and the canal authorities.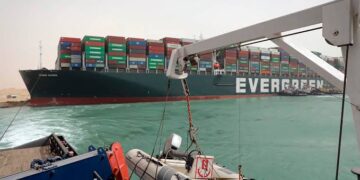 The M/V Glory vessel, going from Turkey to China, had a sudden technical malfunction, the head of the Suez Canal Authority (SCA), Osama Rabie, said in a statement on Monday.
Four tugs were used to pull the ship and take it away for repairs.
Navigation traffic in the canal, one of the world's busiest shipping routes, was not affected, Rabie said earlier.
The vessel is sailing under the flag of Marshall Islands.
In 2021, massive container ship Ever Given blocked the Suez Canal, which connects the Mediterranean with the Red Sea, for six days after it ran aground during a sandstorm.
The incident disrupted traffic on the canal and caused ripple effects on global trade.
A fuel tanker also ran aground in September and was refloated after blocking the vital waterway for about five hours.
The Suez Canal provides the shortest shipping route between Asia and Europe and provides one of Egypt's main sources of income.