Filipino crew died in work accident on bulk carrier, was kept on board for 10 days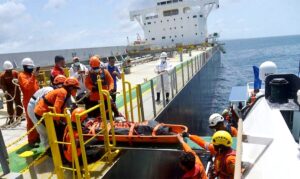 Body of Filipino seaman who died in a work related accident was transferred from bulk carrier LOWLANDS COMFORT to authorities in Banda Aceh waters, Sumatra, on Jul 14. Bulk carrier is en route from Baltimore USA to China via Suez, accident took place on Jul 4 in Gulf of Aden, understood he was operating ship's aux crane in aft section, and was hit. According to ship's track, there was an attempt to disembark body in Oman, but understood, attempt was aborted, reason unknown. So body had to be kept on board until bulk carrier
Chinese cargo ship sank off Somalia coast, 12 crew left the ship, SAR under way
General cargo ship CHANG HE reportedly sank in Indian ocean off eastern Somalia coast, on Jul 15 or 14. 12 crew abandoned the ship, no news on rescue yet. Understood tanker HAFNIA BEIJING (IMO 9856634) interrupted her voyage from Turkey to Cape Town, and as of 0710 UTC Jul 15, is engaged in SAR.
Container ship Captain missing during voyage, Mediterranean
Container ship ALGECIRAS EXPRESS reported missing Captain in Jul 3 in Mediterranean being halfway between Malta and Panteleria islands, while en route from Istanbul to Tanger-Med with ETA Jul 6. The ship started SAR, which lasted from morning Jul 3 until morning Jul 5, with understood, involvement of SAR and CG of coastal states. The ship arrived at Algeciras on Jul 7, she was thoroughly searched by police, all crew were interrogated, but Captain's disappearance remained a mystery. ALGECIRAS EXPRESS was allowed to leave Algeciras on Jul 12, after arrival of new Captain. ALGECIRAS EXPRESS arrived at Tanger-Med same day, left on Jul 13, next port of call unknown, as of 1320 UTC the ship is adrift in Med east of Tanger-Med since morning Jul 13. Missing Captain said to be of Filipino nationality.
Canadian bulk carrier grounding, Colombia
Bulk carrier SMEW ran aground while leaving Barranquilla Colombia at around 1200 UTC Jul 10, with some 22,000 tons of coal on board, bound for Brazil. Traffic in channel was restricted. The ship was refloated at around 2140 UTC Jul 10 with tugs assistance and taken to anchorage. Remained at anchor as of 0430 UTC Jul 11.
Vietnamese coaster sunk by thunderstorm
Cargo ship ND 3525 with 2700 tons of limestone on board sank in Van Uc river estuary, Haiphong, Gulf of Tonkin, on Jul 11. Ship's hold or holds were flooded by big waves brought by thunderstorm. 5 crew were rescued by Vietnamese Border Guard. The ship according to photos, is resting on bottom, remaining partially above waterline.
Kindly like us on Facebook