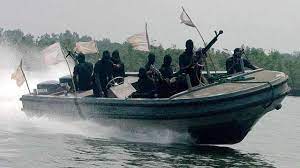 Japanese freighter capsized after collision, all crew missing
General cargo ship IZUMI MARU capsized after collision with unidentified cargo ship at around 2330 Tokyo time Aug 24 in Kii Strait, eastern Honshu, Japan. All 5 crew are missing, Coast Guard launched SAR with boats, vessels and helicopter. It is known, that an unidentified cargo ship was sailing to Taiwan.
Tanker engulfed in flames, South China, 2 crew missing
Tanker SHENG YOU 229, loaded with 6858 tons of diesel oil, caught fire in cargo tanks area at Qinzhou anchorage, China, Gulf of Tonkin, at around 1430 Beijing time Aug 22. Fire engulfed cargo tanks area and spread aft to superstructure. Qinzhou Maritime Authorities responded, sending SAR and CG vessels. Of 17 crew on board, 15 were rescued, 2 went missing. Fire was extinguished in the evening Aug 22. Probably, there was an explosion triggering fire.
LNG tanker and Aframax crude oil tanker collision in Suez
LNG tanker BW LESMES and Aframax crude oil tanker BURRI collided in Suez Canal at around 1930 UTC Aug 22 near mark 142, while both were transiting Canal in southbound convoy. Both tankers after collision were berthed or positioned along Canal embankment near collision site. At around 0020 UTC Aug 23 BW LESMES resumed moving, probably towage, and as of 0550 UTC Aug 23 was maneuvering at Suez anchorage, Red sea, with at least 2 tugs assisting her. Understood she's to anchor.
BURRI as of 0550 UTC remains in the same position, with at least 4 tugs at her side. Understood both tankers are damaged, probably heavily. Traffic looks like restricted or stopped.
German tall ship contacted floating crane, damaged
German tall ship ALEXANDER VON HUMBOLDT II contacted floating crane at Kaiserhafen, Bremerhaven, in the morning Aug 21, while leaving Bremerhaven. Tall ship contacted crane by her foremast yards, and then by stern. She was to depart for a tour trip with some 100 passengers on board, but had to remain at port, to undergo inspection and assess damages. Luckily, nothing fell down on deck from mast, so nobody was injured.