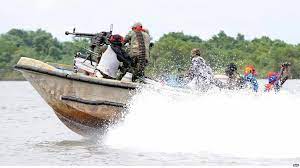 MTT container ship aground, India
Container ship MTT SINGAPORE at around 0550 UTC Aug 2 ran aground onto right bank of Hugli river while sailing upstream to Kolkata India, from Port Klang. Still aground as of 1200 UTC. The ship is having 338 containers on board. Grounding was caused by cargo ship proceeding in opposite direction, MTT SINGAPORE ran onto bank while trying to avoid collision. Other sources say MTT SINGAPORE collided with another cargo ship, and ran onto bank to avoid capsizing. Tugs are sent to assist the ship.
Bulk carrier lost rudder while leaving Tauranga, NZ
Bulk carrier ACHILLES BULKER lost steering while leaving Tauranga, NZ, in the afternoon Jul 24. Bulk carrier with cargo of logs is or was bound for China. Tugs came to assist, ACHILLES BULKER was anchored at Tauranga outer anchorage, and as of Jul 30, remains anchored. The ship lost her rudder, found later on seabed, with signs of previous damages. Not clear how to deal with situation and refit rudder – understood dry docking is required.
Dredger fire, Netherlands
Fire started in engine room of dredger CHARLOCK in the evening Jul 31, probably while she was moving in North Sea Canal, halfway between IJmuiden and Beverwijk, Netherlands. Dredger berthed at Beverwijk at night same day, land firefighters had to be deployed because of some technical difficulties during firefighting. As of morning Aug 1, the ship remained berthed, fire wasn't major and understood to be extinguished.
Bulk carrier grounding, Parana river
Bulk carrier OCEAN FREEDOM ran aground at 311 kilometer mark, Parana river, at around 1000 UTC Aug 3, while sailing downstream en route from San Martin. Was refloated at around 1320 UTC, probably by own means only. Was under way sailing downstream as of 1820 UTC, destination Zona Commun, where she's to be anchored for inspection.
Chinese freighter struck pier, Japan
General cargo ship YU CHANG 128 while maneuvering to berth in Naoetsu Port, central Honshu, Japan sea, struck pier at around 1330 Tokyo time Aug 3, on arrival from Busan Korea. The ship got stuck in basin, she was freed about an hour later with tug's assistance, and moored. No leak reported, extent of damages unknown.