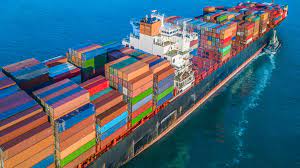 TAIL SHAFT – The extreme section at the aft end of a ship's propeller shaft.
TANK-BARGE – A river barge designed for the carriage of liquid bulk cargoes.
TANK CLEANING – Removal of all traces of a cargo from the tanks of a tanker, normally by means of high-pressure water jets.
TANKER – A tanker is a bulk carrier designed to transport liquid cargo, most often petroleum products. Oil tankers vary in size from small coastal vessels of 1,000 tons deadweight, through medium-sized ship of 60,000 tons, to the giant VLCCs (very large crude carriers). The largest tanker currently afloat is the Norwegian ship Jahre Viking of 564,650DWT. The ship is 458m in length and has a beam of 68,9m with a draught of 24,6m.
TARIFF – Terms and conditions and scale of charges.
TBN – To be named/to be nominated
T/C – Time charter
TECHNICAL MANAGEMENT – Management of the maintenance, crewing and insurance of the ship.
TERMINAL – the business unit in ports where specific cargo, i.e. containers are handled.
TERRITORIAL WATERS – That portion of the sea up to a limited instance which is immediately adjacent to the shores of any country and over which the sovereignty and exclusive jurisdiction of that country extend. South Africa's territorial waters extend for 200 n.miles offshore.
TEU – Twenty Foot Equivalent Unit (containers): A measurement of cargo-carrying capacity on a containership, referring to a common container size of 20 ft in length. A 40ft long container is measured as being 2TEU.
THC – Terminal-handling charge, raised at port terminals for the handling of cargo.
TIME BAR – Time after which legal claims will not be entertained
TIME CHARTER – A form of charter party wherein owner lets or leases his vessel and crew to the charterer for a stipulated period of time. The charterer pays for the bunkers and port charges in addition to the charter hire.
TON MILE – A measurement used in the economics of transportation to designate one ton being moved one mile. This is useful to the shipper because it includes the distance to move a commodity in the calculation.
TONNAGE – Deadweight, gross, net, displacement.
TONNAGE – A quantity of cargo normally expressed as a number of tons.
TOP-OFF – To fill a ship which is already partly loaded with cargo.
TOW – When one or more vessels are being towed; when a tug is towing (hauling) one or more
floating objects.
TOWAGE – Charges for the services of tugs assisting a ship or other vessels in ports or other locations; the act of towing a ship or other objects from one place to another.
TRADING LIMITS – Maritime area usually specified by range of ports in which a vessel may operate
TRAMP SERVICE – Vessels operating without a fixed itinerary or schedule or charter contract.
TRIM – The relationship between a ship's draughts forward and aft.
TUG – A small vessel designed to tow or push large ships or barges. Tugs have powerful diesel engines and are essential for manoeuvring large ships around the port. Pusher tugs are also used to push enormous trains of barges on the rivers and inland waterways of the U.S. Ocean-going salvage tugs provide assistance to ships in distress and engage in such work as towing drilling rigs and oil production platforms.
Kindly like us on Facebook