Danish shipping companies have 51 new vessels under construction, and 25 of them can sail on green fuels, according to a new analysis from Danish Shipping, a trade and employer organisation for more than 90 shipowners and offshore companies.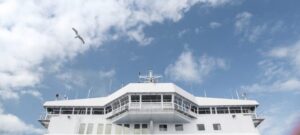 Right now, there is a total of orders for 51 new vessels from Danish shipping companies, compared to 44 last year, which was a record low. This is the first time since 2015 that the number of Danish orders has increased, reaching the levels from 2020.
Danish Shipping has a strategic objective that in 2030 at least five percent of Danish-operated vessels must sail on green fuels.
"It shows that the shipping companies are aware of their responsibilities. And it clearly shows that the Danish shipping companies do more than just talk about the green transition. They are leading the way and are now launching vessels that are prerequisite for the green transition of shipping towards 2050," says Maria Skipper Schwenn, Executive Director of Climate, Environment and Security at Danish Shipping.
The offshore shipping company, ESVAGT in Esbjerg is one of the shipping companies waiting for the delivery of a new green vessel. The company has ordered the world's first green Offshore Service Vessel which will service offshore wind farms with wind turbine technicians and spare parts.
The SOV will be powered by batteries and dual-fuel engines, capable of sailing on renewable e-methanol, produced from wind energy and biogenic carbon, which will lead to a yearly emission reduction of approximately 4,500 tonnes of CO2.
Esvagt started building the vessel in the second quarter of 2022. Once commissioned by the end of 2024, the SOV will start servicing the world's largest offshore wind farm, Hornsea 2, located off the UK's east coast.
"It's a bit like completing the full green cycle when we can both contribute to the development of green energy in Denmark and buy new green fuels. It was natural for us to invest in a green vessel as so much of our business is about supporting the green transition," says CEO of ESVAGT, Peter Lytzen.
Earlier this year, Danish shipping giant Maersk ordered an additional six large ocean-going vessels that can sail on green methanol pushing the total of methanol-powered vessels to 19 containerships.
The six vessels will be built by South Korean shipbuilder Hyundai Heavy Industries (HHI) and have a nominal capacity of approx. 17,000 TEU.
At the beginning of this year, Danish Shipping said that the number of ships flying the Danish flag has set a record in 2021 with 779 ships, an increase of 2.6% since the turn of the year.
Furthermore, the tonnage has increased from 22.34 million GT to 23.24 million GT which represents an increase of 4%. This means that Denmark as a flag state now holds 11th place in the world fleet when measured on gross tonnage.
Danish Shipping has unveiled a new strategy for the next three years in an effort to accelerate the global green transition of shipping and make shipping climate neutral by 2050 at the latest.
Kindly like us on Facebook/twitter