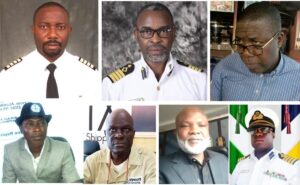 Captain Waredi Enuisuoh
For MAN ORON to measure up internationally goes beyond the institution. As a matter of fact, the whole certification process, standards, and even the Nigerian maritime industry at large will play a part.
Infrastructure alone cannot give you certificate recognition. It is the quality of your services that earns you international recognition. The MTI's (Maritime Training Institutions) should look at being a research center for maritime. We should also be looking at developing courses that will produce professionals that will be able to provide support for the Automated Maritime Future. Innovation is better than playing catch-up
Engineer Bob Yousuo (President, NMOWTSSA)
If the Federal Government can get qualified lecturers and are willing to pay them good remuneration, they will be willing to stay. This is a professional institution that cannot be equated to other institutions. We are also expected to have training vessels. If these training vessels and other facilities are working well, IMO will be able to rate us high. If we don't have training vessels and adequate sea time, how will they give us the approval to get unlimited certificates? If the federal government can do those two things, our school will be one of the best in Africa.
Captain Deji Abegunde
They have been performing brilliantly compared to other nautical institutions anywhere in the world. They are doing their best. They have simulators that are working and can compete with any other simulators all over the world. The Academy has produced lots of people and there is an improvement. Everything is fine. It is just that we are supposed to have multiple of such in Nigeria. We are supposed to have multiple centers like Oron. Oron is the one monopolizing these resources. The products of MAN Oron are okay and can compete anywhere in the world. They are all over countries like Singapore and they are competing very well. I think I will give them a pass mark. They should build other nautical colleges in other to compete better.
Engineer Matthew Alalade (Former President, Merchant Navy)
I know that the Academy is doing very well for the past two years, that is why the Rector was given another term. I believe the performance of the academy is quite commendable. I think they only need the support of the government to ensure that these standards are sustained.
Captain Tajudeen Alao (President, MMA)
Training at the Academy had always been IMO Model courses. The shortcomings have always been in areas of Lecturers, Simulators and International trading ships for practical exposure. The Academy is run according to civil service guidelines in funding, bureaucracy, and also the Nigerian factor. Leadership too has not been based on professionalism but political consideration. The shipping companies who are end-users have not committed their services to the Academy. Lately, we have a leadership that is professional, committed, highly-disciplined to leave a legacy. We have an Academy to be proud of.
Captain Akinpelumi Taiwo
It is straightforward. They need competent instructors and state-of-the-art facilities. We should also make sure that the lecturers or instructors are properly audited, so that they can monitor the content that they are giving out to the students. They should also make sure that the model courses and syllabus in school are in accordance with courses accredited by the IMO.
Captain Alfred Oniye
The following must be put in place. First, Training Ship, that is any Maritime institution without a training ship is substandard. This job is practical and not theoretical. Secondly, students shouldn't be certified with Personal Survival Techniques (PST) without knowing how to swim properly. CoC exams should be updated to current sea experience knowledge and those conducting the exams should be seasoned Seafarers (Masters/Chief Engineers). They should not expired seafarers who are far from the current happenings on sea. Finally, the Academic curriculum should be updated to meet the international standards.
Kindly like us on Facebook