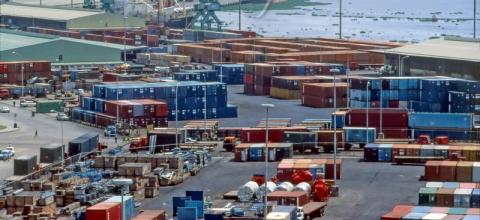 Investigation carried out by Shipping Position Daily has unearthed a distressing reality within Nigeria's maritime sector over the absence of a functional Port Community System (PCS) that has triggered a significant loss of man-hour and revenue, estimated to be in the neighbourhood of N50 billion.
The PCS, designed to be a unified platform for stakeholders, has remained unattainable due to inter-agency rivalry, leaving importers and clearing agents grappling with clearance challenges that result in delays and resultant staggering demurrage costs.
Checks by our correspondent revealed that the concept of the Port Community System (PCS) is not new, and it has been successfully implemented in numerous maritime hubs across the world. It is essentially a one-stop-shop digital platform where all government agencies involved in the maritime sector can collaborate seamlessly to expedite port-related processes and resolve issues swiftly.
In Nigeria, these agencies include the Nigeria Customs Service, Nigerian Ports Authority, Nigerian Maritime Administration and Safety Agency (NIMASA), Standard Organization Of Nigeria (SON) among others
However, checks by our correspondent revealed that in Nigeria, the PCS has remained a mirage for years, mired in bureaucracy and inter-agency rivalries that have led to the failure to establish an efficient PCS.
Experts in the nation's maritime industry who spoke to our correspondent lamented that one of the most glaring repercussions of the absence of a functional Port Community System is the exorbitant demurrage incurred by importers.
Demurrage is the penalty levied on cargo owners for delays in clearing goods from the port beyond the stipulated time. In Nigeria, such penalties may run into the billions of Naira.
Data gathered by our correspondent revealed that in the past five years, the total demurrage costs borne by importers and clearing agents in Nigeria have reached a staggering N50 billion (approximately $120 million).
This is even as stakeholders have lamented that the massive financial drain could have been largely avoided with the implementation of a robust PCS, which would streamline clearance processes, reduce paperwork, and enhance communication among government agencies.
Apart from the financial losses, our correspondent gathered that the absence of a PCS has also led to significant man-hour losses for workers in the maritime sector.  This is because delays as a result of manual processes, paperwork, and inter-agency rivalries result in ships spending prolonged periods at the ports, tying up valuable resources and human capital.
According to estimates from industry experts, an average of 1,000 man-hours is lost daily due to delays and inefficiencies in the clearance process.
 Further findings by our correspondent revealed that one of the major impediments to the establishment of a functioning PCS is the ongoing inter-agency rivalry within the Nigerian maritime sector. Various agencies often compete for control and authority, leading to a lack of cooperation and coordination.
This internal strife our correspondent gathered, has further delayed the development and implementation of a PCS, leaving stakeholders frustrated and the industry in disarray.
Dr. Eugene Nweke, a prominent forwarder, and head of, Sea Empowerment Research Centre, in a chat with our correspondent sheds light on the potential of a well-implemented PCS, drawing inspiration from the Singapore Portnet.
Nweke described Portnet as a shining example of a nation's Business to Business (B2B) Port Community Solution. He said the Portnet, which has been setting the pace since 2010 in Singapore, serves as a unifying platform that empowers the entire shipping community to manage the complexities inherent in cargo operations and the broader shipping process.
He emphasizes that the PCS empowers the shipping community to manage cargo operations seamlessly, streamlining documentation and improving efficiency.  He informed that the Singaporean Portnets processed over 300 million annual transactions in real-time, stating that this showcases the transformative power of a functional PCS.
He said Singapore's Port Authority, renowned as the world's largest transhipment hub, has seamlessly integrated Portnet to handle all electronic vessel and container data processing through its ports and terminals, adding that the integration is not merely about digitalization but about the intelligent consolidation and automation of systems.
He urged the relevant government agencies to emulate the Singaporean Portnet which has excelled in chronicling and synchronizing transactions and information from every player or actor in the logistics process
Nweke also highlighted a crucial point from a World Bank survey in 2007, citing Singapore's role as the world's number one logistics hub. He stated that this ranking was attributed, in large part, to the success of Portnet in simplifying and integrating the complex processes involved in the movement and tracking of cargo on a global scale.
Nweke underscores the enormous potential of a well-implemented PCS like Portnet, stating that such a system has the power to revolutionize Nigeria's maritime sector, streamlining operations, reducing costs, and enhancing transparency.
He further said the PCS offers a pathway for Nigeria to compete on the global stage and improve the efficiency of cargo handling and logistics processes.
On his part, Mr Francis Omotosho, Registrar of the National Association of Government Approved Freight Forwarders (NAGAFF) Academy, highlights potential challenges that may hinder PCS implementation in Nigeria, including network failures, power supply issues, and cyber security concerns.
He however expressed optimism about the system's ability to reduce delays in port operations and emphasizes the importance of capacity building to mitigate job losses and harness the system's potential.