On August 23, the 174,000 cubic meter liquefied natural gas (LNG) carrier "Mulan" was independently designed and built by Hudong Zhonghua, for China Shipbuilding (Hong Kong) Shipping Leasing Co., Ltd. This ship is the first ship of China Shipbuilding Leasing in the 3+1 LNG series ships ordered by the company, setting a record for the sh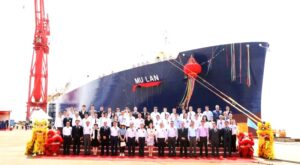 ortest gas trial of a large domestic LNG ship, and is implementing the national carbon neutrality and carbon peak "dual carbon" strategy.
Hu Kai, general manager of China Ship Leasing, and Chen Jun, general manager of the company, delivered speeches at the ceremony. Godmother Ms. Wang Jing chopped the ropes and knocked champagne for the new ship and named it "Mulan". The company's deputy general manager Jin Yanzi presented flowers to the godmother, and the company's deputy general manager Chi Benbin presented souvenirs to the godmother.
More than 80 guests from China Shipbuilding Leasing, Shanghai Pudong Development Bank, Merchant Marine Mitsui, French GTT, Lloyd's Register of Shipping, and China Classification Society attended the ceremony. "Mulan" is the mainstream 174,000 cubic meter LNG carrier in the world today.
It adopts the fourth-generation LNG ship design and construction technology independently developed by Hudong Zhonghua, and is equipped with low pressure developed by China Shipbuilding Power (Group) Co., Ltd., a subsidiary of China State Shipbuilding Corporation.
Dual fuel main engine (X-DF). The ship has a total length of 295 meters, a molded width of 45 meters, a molded depth of 26.25 meters, and a speed of 19.5 knots. It is classified into the British Register of Shipping (LR) and China Classification Society (CCS) and meets the third stage of the Energy Efficiency Design Index (EEDI) standard. , And the latest environmental protection requirements of the International Maritime Organization (IMO).
During the construction of the "Mulan", the company improved management, strengthened communication, and extensively used new technologies to further improve the quality and efficiency of the construction. The gas trial of the ship was only 9 days, creating the shortest record for the domestic large-scale LNG carrier gas trial project, which was well received by the ship owner.
The "Mulan" is an important practice for China Shipbuilding Leasing to implement China State Shipbuilding Corporation's strategic requirements for promoting green development and adhere to the corporate mission of "integration of industry and finance and serving the main business". The ship is also the first large-scale LNG ship independently invested by China Shipbuilding Leasing during the downturn in the shipping market in 2019.
Kindly like us on Facebook