A former Director General of the Nigerian Maritime Administration and Safety Agency (NIMASA); Mr Temisan Omatseye has looked backed at his ordeal as the CEO of the agency and said he felt betrayed by the same country he came to serve.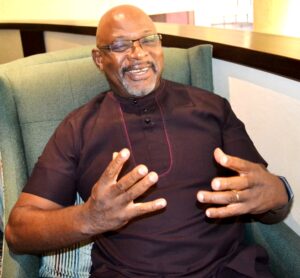 Mr Omatseye, lived in England from where he was appointed as the boss of the nation's apex maritime regulatory agency. He was removed as the DG of NIMASA in December 2010. He was later charged for alleged fraud at the Federal High Court in Lagos under Justice Binta Nyako in January 2011.
"I was charged for not only money laundering, but also contract-splitting among others", he recalled with a bit of contempt for Nigeria.
The ex-DG of NIMASA, who is currently serving the maritime industry in other advocacy platforms told Shipping Position Daily in an exclusive interview that, "they (government) even charged me for splitting contracts and later, they accused me of approving contracts above my threshold and a few other things, I don't understand. And after about two years, Justice Nyako was transferred to Makurdi".
He recalled that, after Justice Nyako was transferred, the case was transferred to Justice Rita Ajuomogobia of the same Federal High Court in Lagos.
"I am sure you are aware that she found me guilty, which led me to spending one month in 'Ikoyi Camp', he recalled, albeit with a little smile.
Omatseye disclosed that, he was compelled to go on appeal because he knew that he was wrongly jailed.
"I later got a bail and then I went to the Court of Appeal and to God be the glory, it is a landmark, because it was a majority decision. First of all, I was charged for an offence that doesn't even exist in Law, so I don't understand why I was charged, tried and jailed for an offence that doesn't even exist. I was discharged and acquitted", he said.
Asked how he felt about the ordeal, the ex-DG said it was humiliating and a betrayal from Nigeria which he came from the UK to serve.
He said unequivocally that: "I felt betrayed by a country I came to serve. I felt Nigeria betrayed me. I have lost 12 years of my life in this ordeal. I came to serve, but unfortunately, there were things bigger than you that you wouldn't understand. My upbringing is different; I came from the private sector to the public sector"
"I felt betrayed and it was quite hurtful. It had a major impact on me and my family and one is still finding it difficult to get out of it. It was very painful. We came back home; not because one could not stay back in England and have a nice career, but I came back home to try to make sure things work. Having gotten the opportunity, I was trying to make things happen. Having to face the ordeal of a crime I never committed, was a major betrayal for me from this country. It is quite difficult for me to carry the flag", he lamented.
Looking back at his brief stint at NIMASA, Omatseye said he had no regret and that, if he had a second chance, he would continue from where he stopped.
"I will go back to where I was and professionalize the agency. I will go back and do a Staff audit based on qualifications; which is what we are doing, and basically begin to put square pegs in square boxes", he said.
Specifically, on the implementation of the Cabotage Act, Mr Omatseye, who is also a ship owner said, "I will also make the Cabotage Act to work, because now, I have a better understanding of the Cabotage Act".
Responding to question about what he would do differently, he said: "We will make sure that Cabotage works; not as a means of depriving people of business, but as a means of encouraging more people to come into the business, because the business is quite big and it is enough for everybody. It's just unfortunate that Nigerians are not taking advantage or are not being given the opportunities".
*See Full Interview on Page 6
Kindly like us on Facebook