The Standard Organisation of Nigeria (SON) has banned the practice of arresting containers that had been released at the seaports and are on the highways, by its officials.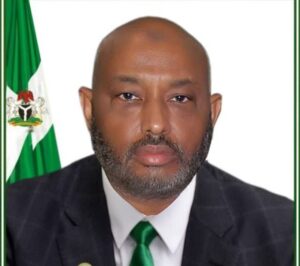 It added that, the organisation has procured a warehouse around the port where suspicious goods will be taken to, for testing.
The Director General of SON, Mallam Farouk Salim disclosed this at a recent gathering in Lagos, where he noted that rather than stopping 'suspicious' goods that have exited the port and delay other businesses coming in, its personnel would henceforth take those containers to their warehouse and conduct test.
The SON DG explained that after testing, if the goods were found to be of standard, they would release them, but if the goods were found to be substandard, such goods would be returned made to meet the required standard.
He explained that the idea was to encourage the ease of doing business policy of the Federal Government at the seaports as the organization did not want bottlenecks and bureaucracy that would stop people from achieving their legitimate goals.
He assured that SON's management would continue to make sure it has efficient system and would continue to rejig the system to make it more efficient.
According to him, "We have done so many changes over the years, for example, we have our own warehouse right by the port where goods that are suspicious, instead of blocking them in the port and delay other legitimate businesses coming through, we just take those containers to our warehouse which are nearby and because we have a very high professional and efficient lab in this country, we do our test, if the goods are okay, we release them. If the goods are not okay, we show those individuals how to fix those products; if they are fixable, if they are not fixable; we destroy them which is our legitimate mandate by the government and by the National Assembly."
He emphasized that it was the responsibility at the Standards Organization of Nigeria to make sure that goods in this country were up to standard and that the substandard goods in the market were decreasing, even as he insisted that one would never eliminate bad things in any society but minimize them.
He said, "We make sure there are consequences to any product and that any person producing substandard products will have to pay one way or the other. We will have to make sure that there are consequences for individuals buying fake products and injuring our people. We are to make sure manufacturers of goods; building materials are up to standards because collapsing buildings are not discriminatory. Whoever is in that building dies, we have hundreds of people dying and nobody asks them what their religion or ethnic group is, they just die. So, we, as an organization know the weight of our responsibility.
"So, we will continue our jobs, we are going to make sure that within our powers, goods coming into this country are monitored, individuals breaking rules, we take them to court because we have the ability to do that and then we prosecute them too. We have factories that are doing bad things. Just two or three weeks ago, we went there and we made sure they put those bad products back into the system and rebuild them again because we are not going there to make them loose their business, but we are going there to make sure they do what they are supposed to do. So, we quietly put hundreds and hundreds tonnes of materials back and they have to recycle them and produce the right thing.
"We will continue doing our jobs, we will continue with your help and your vigilance and your intelligence report to be able to do our jobs even better. But our number one request to you as an organization is to please continue telling people what we do, explain to Nigerians what Standards Organization of Nigeria means, what they do, the benefits of this organization. These are Nigerians like you; we have able professionals working with us. In fact, I can say this without sounding proud that there are very few organizations in Nigeria who have a combination of highly intelligent and motivated people like our organization and I am very proud of that."
Kindly like us on Facebook