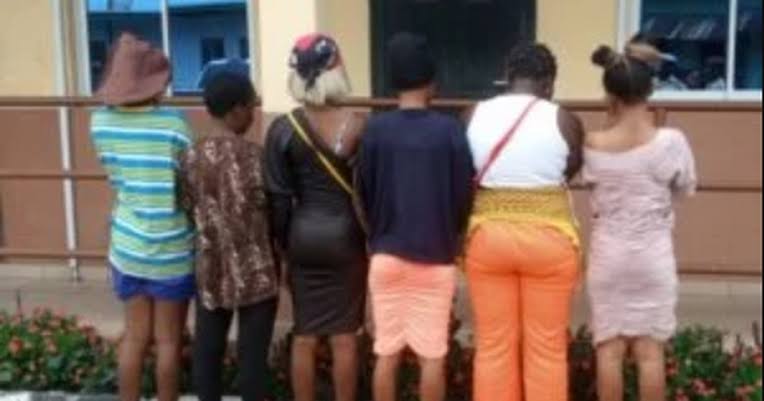 The Nigeria Immigration Service (NIS), Lagos Seaports and Marine Command, has rescued five victims of human trafficking at Pashi checkpoint in Badagry Local Government Area of Lagos State.
Comptroller Mohammed Saddiq, in charge of the command, at a news conference, noted that the victims were intercepted alongside one Mrs Blessing Anireta, 26, without any means of identity or livelihood.
According to Saddiq, the command received the five persons suspected to be victims of human trafficking on Aug. 23, at about 9.30 a.m.
"Preliminary investigation revealed that three of the victims who hail from Abia, Akwa Ibom Plateau states were transported from their respective locations through the point of embarkation under the pretext of getting them legitimate employment in Mali, Benin Republic and Cote d' Ivoire.
"In their seperate statements, the unsuspecting first time travellers all female said they were connected to member of the syndicate in Lagos who coordinated all transportation arrangements to the intended countries of destination.
"As at the time of the press briefing, the suspect is still at large. But we are on the trail with a view to apprehending him and other members of the syndicate," he said.
The immigration boss said that while recounting their ordeal, two of the victims, who accompanied Anireta from Delta State, testified that they were lured into embarking on the journey without their parents' consents.
He noted that they further confirmed that they were on their way to Mali when they were arrested by personnel on patrol at Pashi checkpoint in Badagry Local Government area of Lagos State.
"Upon profiling, it was further established that Anireta facilitated the unsuccessful journey with intent to engage her companions in prostitution in their country of destination.
"The victims, whose ages range between 15 and 23, will at the end of the session, be handed over to the National Agency for the Prohibition of Trafficking in Persons (NAPTIP) alongside the arrested suspects for further investigation.
"I wish to stress at this point that in keeping with the acting Comptroller General's directive, the command was vigorously undertaking a 24/7 patrol of marine routes to stem the tide of human trafficking, migrant smuggling and other forms of transborder criminality.
"To achieve this objective, the command further solicit the support and cooperation of the public, particularly proximate riverine communities in sharing useful information," he said.
On of the victims, a 23-year-old lady from Port Harcourt, said that she was introduced by her neighbour who disclosed how they assisted her sister-in-law in getting an opportunity in the movie industry.
The lady said that her mother was aware of the journey, even though sceptical, but when told it had to do with acting, she gave her consent because of her likness for acting and also wanted to please her.
She said that she was happy they were caught because along the way, she started developing cold feet.
Another victim, a 17-year-old who just finished her senior secondary West Africa Examination Council exams, said that she got wind of the journey with prospect of a job opportunity through her friend.
The victim, who came from Warri, noted that she was staying with her boyfriend when she was approached and saw that as an opportunity to make money because things were tough at home.