In Malaysia, a young boy was found locked inside a shipping container that had arrived from CHITTAGONG, Bangladesh.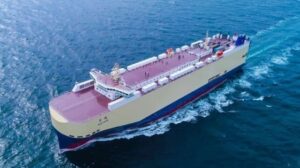 The initial suspicions of human trafficking were dismissed after a cursory investigation by the police. The young man stated that he and his friends had been playing around empty shipping containers. He fell asleep in one of the containers and the door was locked when he woke up.
The empty container was loaded onto the "INTEGRA", which is a 21,500 dwt container ship registered in the Marshall Islands. The vessel departed Chittagong, Bangladesh on January 12th and traveled 1600nm to PORT KLANG in Malaysia. The vessel arrived on January 15th and began unloading on January 17th. The boy spent 5 days locked in the container before being freed.
A dockworker at PORT KLANG, found the young man when he heard the sound of knocking as he was inspecting the containers which were being offloaded from a container ship. The man was in a weakened but coherent state. He was interviewed by the Police and checked up on by a medical team. The man was fed, given a change of clothes, and then taken to the hospital.
The matter has been handed over to the Immigration department of the Malaysian government and the boy will be sent home aboard the same container ship on which he arrived.
shippingposition
Kindly like us on Facebook/twitter