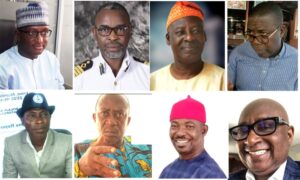 Aminu Umar (Ship Owner)
The DG of NIMASA has just signed an MoU with the Nigerian Ports Authority. They intend to put it to use now. We hope that it will be an asset that will assist the Nigerian Ship owners who have ships that are within the capacity of the drydock. Remember that that dock is having a limited capacity.
Engineer Bob Yousuo (President, Merchant Navy)
In my opinion, the floating dock is not what we need now. To acquire it is one thing, maintaining it is another. You might have a project and you execute it, but when someone else comes on board it might be abandoned thereby causing wastage. We don't need wastage, we need continuity.
Captain Ishola Adewale (Master Mariner)
I am not looking at it in that way. NPA used to have a floating dock which is sunken now and there is a need to have one. They are all under the same Ministry of Transportation and I don't see what is causing the delay in them working together as a team. The NPA needs a floating dock and NIMASA has got it. So they should work out modalities to make it functional. I think that is the only thing that needs to be done and that has been agreed upon. Let them conclude their paperwork and let the dock start doing what it is meant for.
Captain Deji Abegunde
NIMASA practically has nothing to do with the floating dock. NIMASA is supposed to be concerned with dry docking and the issuance of certificates. They are to supervise and certify vessels in the dock. Why is NIMASA having a dock? Will they still be the ones to do the job and at the same time issue certificates? When they went into that (owning a dry dock) initially, it was heavily criticized. So I don't see why NIMASA by any means or any way involve in dry docking or procuring a dock. I believe it is just a means of siphoning Nigerian money.
Engr. Matthew Alalade (Former President, Merchant Navy)
I don't agree with that, because if it is a White Elephant project we will not see the dock. The only challenge now is how to dispatch it for use. I think NIMASA should confirm with stakeholders how to put it to use. It will enhance job opportunities for seafarers and mariners; both on and off-shore. I expect that the current administration will make it effective.
Captain Thomas Kemewerigha
It is a waste of resources. The government does not know how to do business. This is why all we have are being sold to private hands. NIMASA said they are not going alone, but in partnership with the private sector. Who is this private sector? We agree that we need floating docks, but why is it taking them so long to put that one in use; which is incurring debts.
Captain John Okpono (General Secretary, Merchant Navy)
You would know from what is happening now that there was no proper consultation at the time the floating dock was purchased. This is because they just got approval now for the floating dock. Now NIMASA has obtained approval and has been certified to run the floating dock. Because it is not going to be run by NIMASA but a firm, we are requesting that stakeholders should be considered for the managerial aspects of the firm. This is when the floating dock is well-managed that it can be effective and profitable. We need to come together and harness our ideas to see how it can be put to the best use for the benefit of seafarers and to generate income for Nigeria as a country.
Dr MkGeorge Onyoung (Ship Owner)
There is no point commenting on things that are not relevant to developing our life or business. They have bought the floating dock since how many years? We need to ask NIMASA what they are doing about it. They are the ones to tell us why they got the floating dock and the plans they have for it.
Kindly like us on Facebook