Oluyinka Onigbinde & Joshua Yousouph
Following Shipping Position Daily investigative story of last week Monday on how the Nigeria Customs Service (NCS) and customs licensed agents connive to circumvent the auto policy guidelines of the Federal Government on importation of over-aged vehicles into the country, the Nigeria Customs Service has offered some explanations.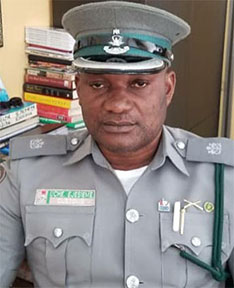 The NCS in defence, stated that there is no connivance between the Service and the customs licensed agents. This is even as the service has explained that not all over-aged vehicles are prohibited from coming into the country.
Public Relations Officer of the NCS, Tin Can port command; Mr. Uche Ejieseme explained that bringing in over-aged vehicles for personal use is not prohibited, but however, said it becomes prohibited if it is brought for commercial purposes.
He explained that, according to schedules 3 and 4 of the Common External Tariff, it is not prohibited when you bring in an overage vehicle for personal use.
He said: "I think it is important to draw your attention to schedules 3 and 4 of the Common External Tariff (CET), if you go to schedule 3, it is talking about the first import prohibition list (Trade) and if you go to schedule 4, you will see absolute prohibition other than trade
"What this simply means is that, for instance, if you say import prohibition trade, it means you cannot import such items in a commercial quantity, that will give the impression that you are coming to sell at merchandise.
"So in this instance, if somebody brings in an over-aged vehicle in this parlance, it doesn't qualify to be contraband, because you are not bringing it for trade purpose".
Explaining further, he said, "You can decide to go and bring in a vehicle of any age for your personal use by the provision of import prohibition list III, you are free to bring it in, in as much you have not brought it for commercial purposes to sell, but it is when you now bring it in 10 to 20 units, it has now contravened schedule III of the Common External Tariff.
"Occasionally when we see one or two, we assume they are bringing it in for personal use and not for trade and that's what schedule III of the guidelines is talking about. I doubt if any system can allow bringing in a volume of overage vehicles. So, bringing in one or two has not contravened the Common External Tariff which is our guiding book", he said.
Meanwhile, stakeholders have also raised divergent views about the report about the importation of overaged vehicles. Some have argued that the 'porosity' of the seaports and land borders encourage the importation of these vehicles.
Some stakeholders had alleged that many of the over-aged vehicles are imported or smuggled into the country through the land borders, even as some have argued that the seaports in Lagos are the hub for the importation of overaged vehicles.
The Seme Border Chapter Chairman of the Association of Nigeria Licensed Customs Agents (ANLCA), Alhaji Bisiriyu Lasisi Fanu told Shipping Position Daily last week that it will be speculative and baseless to say over-aged vehicles come through the land borders. This, he argued because importation of vehicles through land borders is not officially allowed.
Fanu however disclosed that there is no other route for importation asides from the single official Abuja gate at the Seme border. He also noted that there are no ferries or barges that can be used to transport vehicles through the waters at the border at Seme.
He however said that there might be other illegal routes at the Igolo area at the Idiroko border, but there is none at the Seme border.
"The recognition of vehicles passing through the land border is not officially allowed. If those overaged vehicles are even passing through the border, we don't have access to that information. And if they pass, I don't think it will be in the magnitude of those that come in through the seaports. People can only be making statements that divert the attention of the government from the fact that such vehicles come through Lagos ports of course, because the border is not opened for cars officially", he added.
He stated that there is only one official route at Seme border where imported cargoes can pass through.
According to him, "if anybody is thinking any car is coming through Cotonou especially the overaged ones such statement that is not confirmable. This is because even if they will pass, they will go through illegal routes and we don't have such illegal routes here at Seme Border".
"Here, we have only one straight 'Abuja route'. Immediately you enter, you cannot cross through Badagry without passing through Gbaji bridge and we don't have ferries or barges that carry cars across the water in Badagry", he stressed
Also speaking, the Customs Area Controller of Ogun 1, Comptroller Dera Nnadi however debunked the allegation of over-aged vehicles coming into the nation through the Idiroko border in Ogun state. He categorically stated that the importation of vehicles from the border has been stopped since 2017.
Kindly like us on Facebook