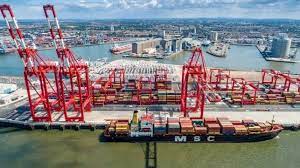 Following a "sustained and significant deterioration" in container volumes, Port of Liverpool owner Peel Ports today announced that it has opened redundancy consultations with staff at its box terminals, warning that up to 125 jobs could go.
Following discussions with Unite the Union officials, the company has said it is scheduled to start issuing formal consultation notices to the union and employees at the container terminal, which employs around 850 staff, indicating the possibility of up to 125 redundancies.
The consultation is expected to take 45 days.
"This is a decision we have been wrestling with for many months and it's the last thing anyone at the port wants to face," Ian Cressey, port director of Liverpool Containers Division, said:
"We deeply regret the impact this will have on our people, but the sustained and significant deterioration in the global container market has forced our hand," he added.
According to Peel Ports, in the first half of 2023 there was a drop in UK container volumes of around 12%, following a 7% decline in 2022, and it added that "economic and industry forecasts show that no meaningful improvement is expected in the near future", with the declines largely attributed to a combination of weaker consumer demand for manufactured goods as a direct result of inflation, as well as recession concerns fueled by rising interest rates, and wider geopolitical issues.
"These are challenges being faced by every other port operator in the market and we've done everything possible to safeguard jobs despite markedly declining global container volumes over the past two years.
"However, we've now, very reluctantly, had to take the difficult but responsible decision to bring our operations more in line with what are some of the most challenging market conditions we've seen in many years. It's extremely regrettable, but unavoidable," Mr Cressey explained.
"We will, of course, provide all the support we can to colleagues affected at this difficult time, working with them throughout the whole process."
The port has said it will accept voluntary redundancies and is committed to offering career transition advice and support, as well as assistance in finding new employment to affected employees, if this is required.
According to the eeSea liner database, Liverpool's deepsea services currently comprise two transatlantic services – one from Atlantic Container Line, and one vessel sharing agreement service operated by Cosco, Hapag-Lloyd, MSC and OOCL, which deploys five vessels with an average capacity of 4,500 teu.
The port also hosts 12 intra-Europe shortsea and feeder services operated by BG Freight Line, CMA CGM, MSC, WEC Lines and Borchard.
According to the latest Container Trade Statistics (CTS) data, which runs up to July this year, the headhaul westbound transatlantic trade has lost almost half a million teu this year compared to last, representing a 14% decline, with double digit year-on-year delcines seen nearly every month this year.
Up to July this year, total volumes on the trade amounted to just under 2.9m teu, compared with 3.3m teu handled by the end of July 2022.