The Management of Kaduna Inland Dry Port (KIDP) has donated nine desktop computers worth N2.5 million to three schools within Kakuri community, Kaduna State, as part of its corporate social responsibility.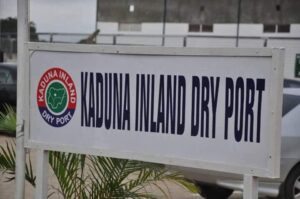 The benefiting schools are: Government Day Secondary School (GDSS), Army Children School (ACS) Arti 1 and LEA School, Down Quarters all located within Kakuri, where the port is situated.
Mr Rotimi Hassan, the Port Manager of KIDP, while presenting the items on Wednesday to the respective benefiting schools said the gesture was to support the communities close to the port.
Hassan also noted that the items would complement the state government's efforts to advance the educational sector especially the Information and Communication Technology (ICT).
"The world has become a global community as such, there is the need for especially our pupils to be conversant with ICT so they could compete favourably with the counterparts in any part of the world," he added.
The manager urged the pupils and students of the schools to be attentive to their teachers and take advantage of the computers to improve themselves for the future.
Also, Mr Kabir Mato, Kaduna State Commissioner for Ministry for Business, Innovation and Industrial Development, admonished the benefiting schools to leverage on the gesture and use items for the purpose they were meant for.
The commissioner who was represented by Mr Musa Jibril, Director, Business and Industrial Development applauded KIDP, describing the gesture as heartwarming.
He, however, urged urged the port to sustain the tempo and assured of the state government's support.
Abdulsalam Adamu, Principal of GDSS Kakuri, commended the firm for the donation, adding that "the pupils would ever live to remember this laudable gesture.
"We assure you that the items would be taken care of and used for the purpose they were meant."
Also, Gloria Musa, Head Girl of the school prayed for continued progress of KIPD and urged the firm to extend the same gesture to other schools who lacked such facilities.
Five desktops were donated to GDSS, Kakuri while two each were donated to ACS and LEA Kakuri respectively.
Kindly like us on Facebook