Kongsberg has won a five-year contract with a major shipping company to digitalise its entire fleet.
Almost 500 vessels will be digitalised by Kongsberg Digital under a contract that encompasses the entire fleet of MSC's (Mediterranean Shipping Company) container ships.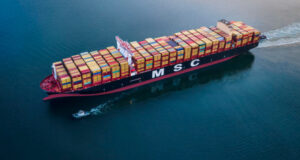 Under the five-year agreement, Kongsberg will delivery its data infrastructure service Vessel Insight, which will allow data collection and contextualisation for the purpose of improving fuel efficiency and optimising vessel operations.
"This is a very important contract for MSC as making our fleet more sustainable is one of our top priorities," said Gianluigi De Maio, SVP, Manager of Fleet-Network-Terminal Efficiency, MSC. "With Kongsberg Digital and the Vessel Insight data infrastructure we will be able to optimize our vessel operations to become more effective, sustainable, and safer.
"The maritime industry is facing strict regulatory requirements to cut emissions and become more sustainable, and we are therefore very pleased and proud to have secured this contract. This is an important step on the way towards a greener operation."
The Kongsberg technology will also improve safety and crew welfare, Kongsberg says.
MSC equips its dry cargo with devices that can collect data such as temperatire, position and door opening in real time, enabling remote tracking and monitoring for cargo owners.
Kindly like us on Facebook