The Lagos State Government has condemned the incessant truck accidents happening within the state and warned owners and drivers of articulated vehicles against recklessness.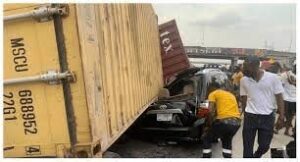 The Permanent Secretary Ministry of Transportation, Mr Abdulhafiz Toriola, said in a statement on Wednesday, in Lagos, that any driver or owner found to be an accomplice in any truck accident would be arrested and prosecuted.
He said this would be done in accordance with the State Transport Sector Reform Law (TSRL), 2018.
Toriola said that the warning became necessary, following the recent truck accidents at Ojuelegba and Ikotun area which claimed lives of innocent citizens and left scores of people injured.
The permanent secretary said that other truck accidents occurred at Abule-Egba road and Odoyalaro (Maryland) Bridge, which fortunately were without casualties.
He said that investigation revealed that the accidents happened, most times, due to negligence and recklessness on the part of the drivers.
Toriola reiterated that the State Government had resolved not to tolerate unabated truck accidents caused by large containers falling off trucks which injure or kill residents going about their daily activities.
"Having carried out a critical forensic investigation on the causes of these accidents, the State Government has resolved to evoke the full wrath of the laws stipulated in its Transport Sector Reform Law (TSRL), 2018, on liability of owners for safety.
"The law clearly states that a person who drives a commercial vehicle whose condition does not conform to the provisions of the law commits an offence.
"The person is liable on conviction to the penalty stated in Section 18 (2) and in situations where the driver of the vehicle is not the owner, the owner will also be liable in line with Section 18 (3).
"The enforcement strategies to check the operations and activities of articulated vehicles plying the State Roads is sacrosanct and will be enforced.
"The State Government, having registered its displeasure and position on the current situation, sought the cooperation of all relevant Stakeholders in the implementation of the enforcement to erase needless deaths, enhance movement without fear on our roads and safety of lives and property," Toriola said.
He commiserated with families who lost their loved ones in the recent accidents, assuring them that justice would be served.
shippingposition
Kindly like us on Facebook/twitter