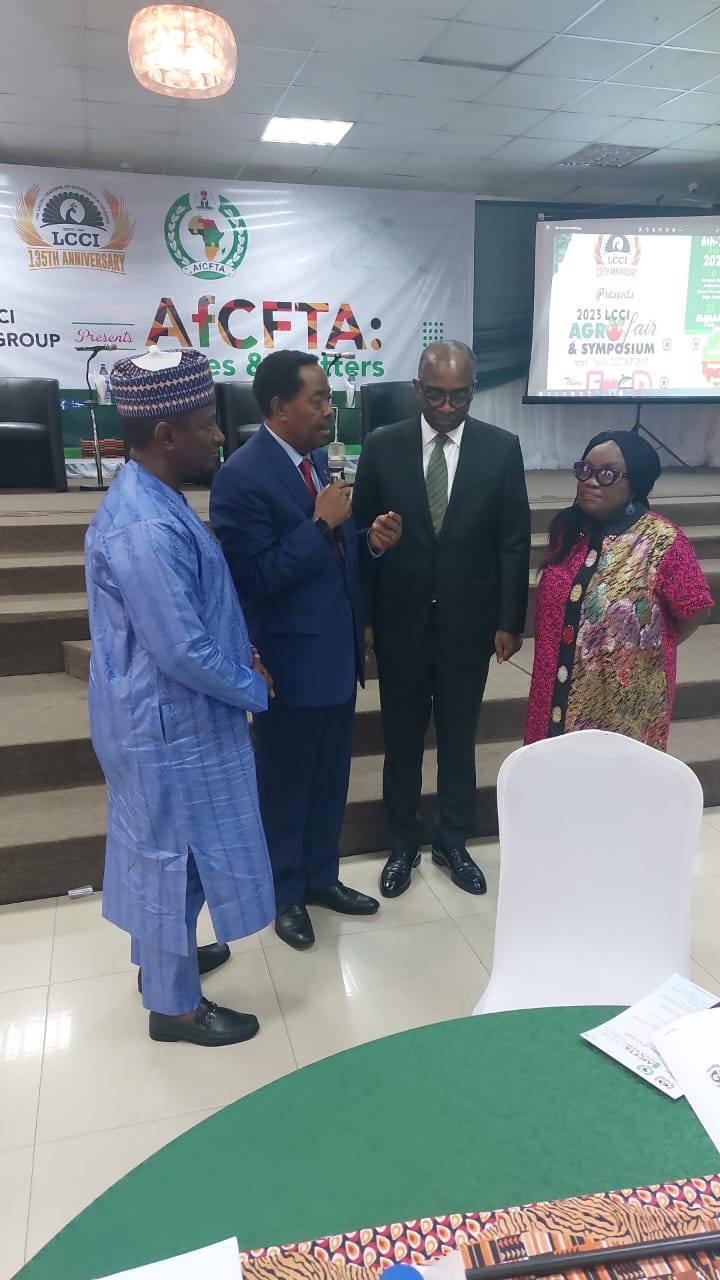 In a resounding call for strategic action, the Lagos Chamber of Commerce and Industry (LCCI) has demanded a well-defined and concrete plan from the Nigerian government to effectively implement the African Continental Free Trade Area (AfCFTA) agreement.
At a symposium organized by the Maritime Group at Commerce House, Victoria Island in Lagos on Tuesday, stakeholders in Nigeria's international trade emphasized the urgency of addressing challenges that could hinder the country from fully benefiting from AfCFTA.
The symposium, themed "AfCFTA: Issues and Matters," highlighted the need for Nigeria to position itself to leverage the significant opportunities presented by AfCFTA.
The AfCFTA aims to establish the largest free trade zone worldwide, fostering increased intra-African trade by dismantling trade barriers. Across 55 countries and connecting 1.3 billion individual. The deal possesses a combined GDP exceeding $3.4 trillion. The United Nations Conference on Trade and Development (UNCTAD) predicts a potential 33% boost in intra-Africa trade and a 51% reduction in the continent's trade deficit through AfCFTA.
President of LCCI, Dr. Michael Olawole-Cole, stressed the necessity of substantial policy reforms and enhanced trade facilitation measures to unlock AfCFTA's full potential. He underscored that maritime trade, which constitutes 80% of global deliveries, could significantly amplify under AfCFTA, offering substantial opportunities for growth in various transport modes.
He emphasized that Nigeria must strategically harness its geographic advantage and abundant resources by investing in infrastructure, including ports and vessels, to become a competitive force in sea trade and commerce.
While acknowledging the creation of the Ministry of Marine Resources and Blue Economy by President Bola Tinubu's  administration, Olawole-Cole highlighted pressing issues within the maritime sector. These include regulatory gaps, maritime security, funding challenges, elevated freight rates, delayed cargo clearance, insufficient storage capacities, low fleet ownership, and both tariff and non-tariff barriers.
Various stakeholders, including indigenous shipowners, seaport terminal operators, insurance brokers, bankers, customs brokers, and freight forwarders, gathered at the symposium to voice their concerns and recommendations for AfCFTA's successful implementation.
The Executive Secretary of the National Action Committee on AfCFTA, Mr. Olusegun Awolowo, underscored the importance of tackling challenges in areas such as infrastructure development, regulation, capacity building, and port process automation. He emphasized the need for efficient maritime infrastructure, streamlined customs procedures, and a shift towards an export-oriented economy.