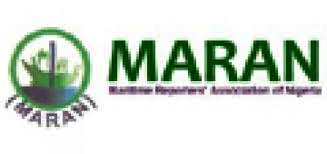 The Maritime Reporters Association of Nigeria (MARAN) has announced a change in the date for its maiden MARAN Annual Maritime Lecture (MAMAL), initially slated for Tuesday, November 21 in Lagos.
The inaugural lecture, themed "Maritime Security: Emerging Threats and Actionable Steps," is designed to propose sustainable solutions and will now take place on Wednesday, November 29, 2023, at Rockview Hotel Apapa, Lagos, starting at 9 am.
According to a press statement by MARAN President; Mr Godfrey Bivbere, the 2023 MAMAL will address maritime crimes in the Gulf of Guinea (GoG) region and safeguard seafaring and fishing communities in the affected countries.
MARAN, as the leading umbrella body of journalists covering the Nigerian maritime sector, acknowledges and commends the collaborative initiatives and efforts of the Nigerian Maritime Administration and Safety Agency (NIMASA) and other maritime agencies, resulting in a significant reduction in piracy incidents in Nigerian waters and the GoG throughout 2022.
The establishment of the Gulf of Guinea Maritime Collaboration Forum for the Shared Awareness and Deconfliction (GOG-MCF/SHADE) has facilitated stakeholder connections and discussions on tackling piracy, yielding measurable results.
Bivbere disclosed that the Special Guest of Honour will be Minister of Marine & Blue Economy; Mr Adegboyega Oyetola, while the keynote speaker will be the Director-General of NIMASA, Dr. Bashir Jamoh.
Other speakers include former NIMASA DG, Barr Temisan Omatseye; Alhaji Aminu Umar, President of the Nigerian Chamber of Shipping (NCS); Mr. Emmanuel Maiguwa, President of Maritime Security Providers Association of Nigeria (MASPAN); and Capt Waredi Eniosuo.
The event is expected to draw stakeholders from the maritime sector, including Shipowners, NIMASA, Nigerian Shippers' Council, the Nigerian Ports Authority (NPA), Nigerian Navy, Shipping Lines, Terminal Operators, and major seafarers' organizations.
Bivbere added that other dignitaries anticipated at the event include Chief Isaac Jolapamo, President General of MWUN; Prince Adewale Adeyunju, former Minister and CEO of Genesis Worldwide Shipping; Capt. Emmanuel Ihenacho, Chairman of Starz Group; Greg Ogbeifun, the Nigeria Ship Owners Association (NISA); Ship Owners Association of Nigeria (SOAN), and all other relevant stakeholders."