The 12th edition of the largest multinational maritime exercise in Western and Central Africa, Obangame Express (OE23) has kicked off in Lagos, with 33 participating nations.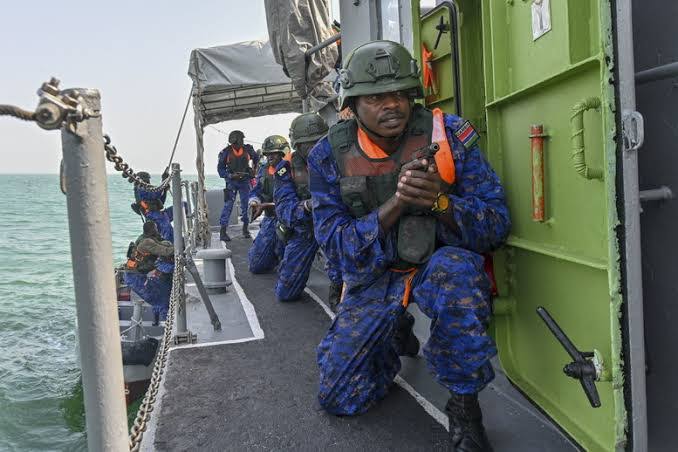 This was made known in a statement by the U.S. mission in Nigeria on Tuesday.
The 33 nations participating in OE23 include Angola, Belgium, Benin, Brazil, Cabo Verde, Cameroon, Canada, Cote d'Ivoire, Democratic Republic of Congo, Denmark, France, Gabon, The Gambia, Germany, Ghana, Guinea-Bissau, Italy and Liberia.
Others are  Morocco, Namibia, Netherlands, Nigeria, Poland, Portugal, Republic of Congo, Sao Tome & Principe, Senegal, Sierra Leone, Spain, Togo, the U.S., the Economic Community of West African States (ECOWAS) and the Economic Community of Central African States (ECCAS).
According to the mission, the exercise will feature both in-port and at-sea training scenarios,  including maritime operations center familiarisation and exchanges on medical care, search and rescue operations, and boarding techniques.
Mary Beth Leonard, U.S. Ambassador to Nigeria said OE23 reflected her country's continued dedication to partners in the Gulf of Guinea as they strived to secure their people, their economies, and resources.
"We are delighted that Nigeria is hosting this military exercise, as we firmly believe that maritime security in Nigeria and its neighbors will lead to greater prosperity for the region as a whole," Leonard said.
Adm. Stuart B. Munsch, Commander, U.S. Naval Forces, Europe-Africa noted that illicit maritime activities threatened regional development efforts, weakened state security, and robbed African partners of resources upon which they relied on  for economic growth and effective governance.
He added that exercise obangame express was an important opportunity to improve collective capabilities, build trust between nations, and promote stability in a vitally important part of the world.
The mission noted, in the statement, that the exercise was an opportunity for like-minded partners to work together to develop African-led solutions to shared transnational challenges and promote global security.
"OE23, one of three NAVAF-facilitated regional exercises, provides collaborative opportunities for African and U.S. forces, and international partners to address shared transnational maritime concerns.
"Nigeria, OE23's host, is an important partner of the U.S. in promoting a peaceful, well-policed Gulf of Guinea.
"Nigeria also maintains the largest navy in the Gulf of Guinea region and is critical to security and stability in Africa," it stated.
shippingposition
Kindly like us on Facebook/twitter