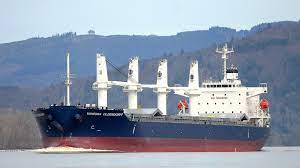 Vast: An order to cease (stop).
Veer: To slack off or move off; also said of a change of direction of wind, when the wind shifts to a different direction.
Ventilator cowl: The swiveled opening at the top of a ventilator.
Ventilator: A wooden or metal pipe used to supply or to exhaust air.
Waist: The portion of the deck between the forecastle and quarterdeck of a sailing vessel.
Wake: A vessel's track through the water.
Waste: Cotton yarn used for cleaning purposes.
Watch cap: A canvas cover secured over a funnel when not in use. Sailor's headwear, woolen type, capable of covering the ears in cold weather.
Watch officer: An officer taking his turn as officer of the watch.
Water breaker: A small cask carried in ship's boats for drinking purposes.
Water's edge: The surface of the water.
Water-logged: Filled with water but afloat.
Waterline: The line painted on the side of the vessel at the water's edge to indicate the proper trim.
Watertight: Capable of keeping out water.
Waterway: The gutter at the sides of a ship's deck to carry off water.
Weather eye: To keep a weather eye is to be on the alert (heads up).
Weather side: The windward side (from where the wind is blowing).
Weigh: Lift anchor off the bottom.
Well enough: An order meaning sufficient (enough).
Where away: A call requesting direction in answer to the report of a lookout that an object has been sighted.
Whipping: A method of preventing the ends of a line from unlaying or fraying by turns of small stuff, stout twine or seizing wire with the ends tucked.
White cap: The white froth on the crests of waves.
Wide berth: At a considerable distance.
Wildcat: A sprocket wheel on the windlass for taking links of the chain cable.
Winch: An engine for handling drafts of cargo secured on deck and fitted with drums on a horizontal axle.
Windlass: An anchor engine used for heaving in the chain cable and anchor.
Wiper: A general handyman in the engine room.
Yaw: To steer wildly or out of line of course.
Kindly like us on Facebook