Abaft the beam: Said of the bearing of an object which bears between the beam and the stern (further back than the ship's middle).
Abaft: A relative term used to describe the location of one object in relation to another, in which the object described is farther aft than the other. Thus, the mainmast is abaft the foremast (in back of).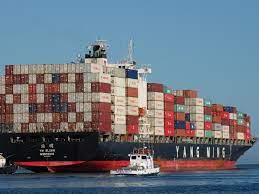 Abandon ship: Get away from the ship, as in an emergency.
Abeam: The bearing of an object 90 degrees from ahead (in a line with the middle of the ship).
Able bodied seaman: The next grade above the beginning grade of ordinary seaman in the deck crew.
Aboard: In the vessel (on the ship).
Aboveboard: Above decks; without concealment of deceit (out in the open).
Abreast: Abeam of (alongside of).
Accommodation ladder: The portable steps from the gangway down to the waterline.
Admiral: Comes from the Arabic "Emir" or "Amir" which means "First commander" and "Al-bahr which means "the sea". Emir-al-barh evolved into Admiral.
Adrift: Loose from the moorings (not tied or secured).
Afloat: Floating.
Aft: At, near, or toward the stern (back end).
Aground: Resting on the bottom.
Ahoy: A call used in hailing a vessel or boat (hey!).
Air tank: A metal air-tight tank built into a boat to insure flotation even when the boat is swamped.
Alee: To the leeward side (away from the wind).
Alive: Alert (pep it up!).
All hands: The entire crew.
All standing: To bring to a sudden stop.
Aloft: Above the upper deck (above).
Alongside: Side to side.
Amidships: In or towards the middle of a ship in regard to length or breadth (center of).
Anchor: A device or iron so shaped to grip the bottom and holds a vessel at anchor by the anchor chain.
Anchor bar: Wooden bar with an iron shod, wedge: shaped end, used in prying the anchor or working the anchor or working the anchor chain. Also used to engage or disengage the wild-cat.
Anchor chain: Heavy, linked chain secured to an anchor for mooring or anchoring.
Anchor lights: The riding lights required to be carried by vessels at anchor.
Anchor watch: The detail on deck at night, when at anchor, to safeguard the vessel (not necessarily at the anchor; a general watch).
Anchors aweigh: Said of the anchor when just clear of the bottom (leaving or moving).
Anchorage: A place suitable for anchoring.
Ashore: On the shore (on land).
Astern: The bearing of an object 180 degrees from ahead (behind).
Athwart ships: At right angles to the fore-and-aft line of the vessel (sideways-across).
Avast: An order to stop or cease hauling (stop action at once).
Awash: Level with the water (water ready to, or slightly covering decks).
Awning: A canvas canopy secured over the ship's deck as a protection from the weather (covering).
Aye, aye, sir: The reply to an officer's order signifying that he is understood and will be obeyed (I understand).
Kindly like us on Facebook