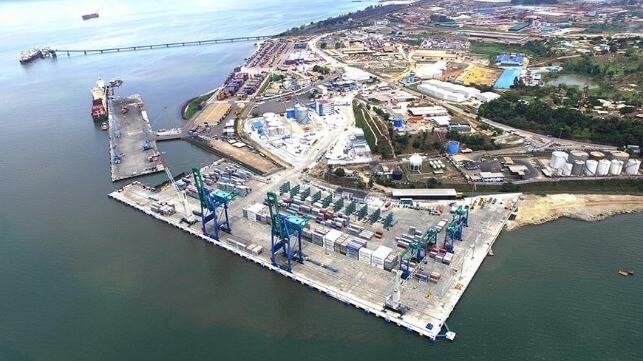 Multiple merchant ships, including containerships operating for Maersk and Hapag-Lloyd, are reportedly caught in the coup in the central African country of Gabon.
Military leaders had declared that the borders and all government institutions were closed as they announced the sack of the country's long-serving President Alli Bongo Ondimba and were reported to be meeting to decide the future leadership of the country.
The situation remains confusing with the coup that began to unfold in the morning of August 30, just hours after Bongo was declared the winner of a broadly contested national election, his third as president. He and his father before him have ruled Gabon since 1967, just seven years after the country became independent from France.
Gabon is home to mineral and oil exports with multiple bulkers and tankers showing as anchored offshore.
The vessels affected included commercial cargo ships as well as tankers that had stopped near to the country's major ports including Owendo, near to the capital Libreville, and Port Gentil further south, ship tracking data from analytics company MarineTraffic showed on Wednesday.
British maritime security company; Ambrey said port operations in Libreville had stopped and no vessels had entered or departed the port since the announcement of the coup.
"Ambrey is aware that movements in and out of Gabon have been closed down following an early morning announcement by military officials," it added in an advisory.
Hapag-Lloyd confirmed to Reuters that it has a vessel at Libreville. The Dallas Express (67,145 dwt), a Liberian registered containership, shows on its AIS that it is in the anchorage, with a spokesperson telling Reuters that the vessel was unable to depart due to the borders having been closed. In addition, the Maersk Valparaiso (23,359 dwt) a Singapore-registered feeder ship working on the African coast is also in the anchorage.
Bollore reported in October 2017 that it had opened the modernized New Owendo International Port near Libreville after an investment of $300 million. The capacity of Owendo's multipurpose terminal was expanded along with lengthening the dock, dredging, and new cranes able to handle containerships with a capacity of up to 6,000 TEU.
AIS signals show that a Chinese-owned bulker, Lin Hai 6 (52,500 dwt) registered in Panama is on dock at Owendo. In addition, a chemical tanker registered in Denmark, Caroline Theresa (78,800 dwt) owned by Christiania Shipping is also on dock at the terminal.
Gabon is a dangerous place for seafarers even without a coup. In May, three crewmembers from Eagle Bulk's Grebe Bulker were kidnapped while the vessel was at anchor. They were released after about three weeks.