The Minister of Transportation; Engr. Mu'azu Sambo has charged the Nigerian Maritime Administration and Safety Agency (NIMASA) to generate more revenue into the coffers of the Federal Government.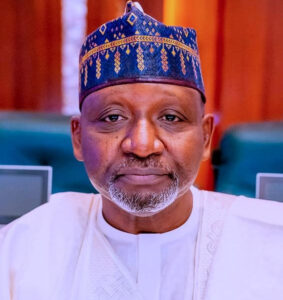 The Minister gave this charge on Friday when he paid a courtesy visit to the headquarters of the agency. Sambo who commended the Director General of NIMASA; Dr. Bashir Jamoh and his entire team for bringing huge transformation to the agency, also acknowledged that the agency has changed from what it used to be about 10 years.
He said: "Even as an outsider, I must acknowledge the fact that NIMASA of today has come a long way from the NIMASA I knew 10 years ago. I will like to commend you and your management team and the whole staff because success is dependent on teamwork, I commend your entire team and I wish you the best in the journey towards making NIMASA the best regulatory agency in African Continent".
He however urged the agency to do more in the area of revenue generation, stating that NIMASA is one of the critical agencies that should support the government treasury.
He added that though NIMASA is being regarded as a regulatory agency, Nigeria, being a developing country, needs to diversify its economy, informing that crude oil is no longer the highest contributor to the Gross Domestic Product (GDP) of the economy.
He said: "I can find everything you told us here, but what I can't find here is what is the agency is doing in terms of revenue generation.
"NIMASA is one of the critical agencies that should support the treasury, I know there is this argument that it is a regulatory body and that revenue generation is supposed to be a fallout, let's be honest with ourselves; ours is a developing country so the sources of revenue need to be diversified, emphasis must always be paid on revenue".
"I sit on the Federal Executives Council and I know how Mr President, the Minister of finance and all other Ministers feel about the dwindling fortunes of our economy.
"We are not getting much from crude oil anymore; in fact, as far as GDP is concerned, Agriculture is contributing more to the GDP than crude oil so we need to do more in revenue generation" he said.
Speaking earlier, the Director General NIMASA said the agency has been able to sustain the successes recorded in the fight against piracy on Nigerian waters with the help of the Nigerian Navy.
He said, maritime security will always be of priority concern to NIMASA due to its position as the bedrock and guarantee of every meaningful shipping enterprise.
Responding to issues on revenue, the NIMASA DG said the agency generated over N31 billion in 2020 and more than N37.5 billion last year, the highest ever contribution coming from NIMASA since its inception.
Kindly like us on Facebook/twitter