Dr Gabriel Adakole, a Public Health expert, has said that the COVID-19 Pandemic showcased deficiencies in the country's underfunded public health system.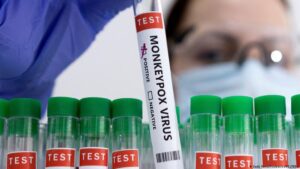 Adakole, who spoke in Abuja, added that currently, monkeypox was reminding the nation of the need to have a strong public health.
He said that a silver lining in monkeypox disease was it was much less contagious than COVID-19.
The expert explained that one way to measure this was to look at the number of people a person with the virus could infect.
"With the original version of COVID-19, it was three or four, and now it's closer to 15; with monkeypox, it's less than one under normal circumstances.
"There is also no evidence yet to suggest that the monkeypox virus has evolved or become more infectious.
''Furthermore, monkeypox is a DNA virus, which is inherently more stable, compared to COVID-19, an RNA virus.
"An RNA virus is much more likely to have transcription errors copied and those mutations may lead to versions that are more transmissible," he said.
Adakole called on the Federal Government and all relevant agencies to perceive the COVID-19 pandemic and Monkeypox as another warning to strengthen the country's health system to be able to ensure the citizens' healthcare.
He said that the monkeypox outbreak was being contained in adult men who could fight the virus in most cases.
He said that a situation where the virus jumped to large populations of children or seniors, the outlook could quickly change.
Adakole added that monkeypox could jump to the rodent population and become endemic in the country.
He said that the virus should be managed properly across the country to stop it from becoming a big deal and urged infected persons to visit health facilities when they were sick.
"Doctors can diagnose monkeypox based on a patient's history and a physical exam; anyone who suspects he might have the virus should contact the healthcare provider.
"The virus can be confirmed with a Polymerase chain reaction (PCR) test, but those tests are currently only available at highly specialised labs.
''Health facilities can work with the Nigeria Centre for Disease Control and Prevention (NCDC) if testing is deemed necessary," he said.
The expert said that people who were sick with monkeypox should isolate themselves at home from family and pets.
Adakole said that there was no specific treatment for monkeypox infections but antiviral drugs licensed for smallpox had been effective on the disease.
He urged the healthcare workers to maintain a high index of suspicion for Monkeypox, especially for patients presenting with fever and vesicular/pustular rash as well as take precautions when giving care.
Meanwhile, Nigeria has recorded 36 new confirmed cases of monkeypox in one week – between Aug. 22 and 28, according to the recent epidemiological report by the NCDC
This brings the total number of confirmed cases since January to 277 with six deaths reported.
The additional 36 confirmed cases were reported in 14 states which included Lagos (seven), Abia (six), Bayelsa (five), Edo (three), Ondo (three) and Delta (two).
Ebonyi and Rivers recorded two respectively while Anambra, Benue, Gombe, Imo, Katsina and Oyo recorded one each.
According to the report, the six associated deaths were recorded in six states, namely Delta (one), Lagos (one), Ondo (one) and Akwa Ibom (one), Kogi (one) and Taraba (one) and CFR (Case Fatality Rate), 2.16 per cent.
''Since January this year, seven states have not recorded a confirmed case; they include Enugu, Ekiti, Kebbi, Sokoto, Zamfara, Yobe and Jigawa.
The NCDC said that 100 new suspected cases were reported in Epi – 34 (Aug. 22 to 28) in 21 states.
The states include Lagos (17), Abia (16), Imo (14), Delta (seven), Ondo (seven), Bayelsa (five), Gombe (five), Rivers (four), Benue (three) and Ebonyi (three).
Others are Edo (three), Plateau (three), FCT (two), Katsina (two) Osun (two), Taraba (two) while Anambra, Enugu, Kano, and Oyo states reported one each respectively.
On COVID-19, from Sep. 3 to 5, the country has reported 147 additional COVID-19 infections.
The cases are reported from eight states which include Lagos (64), FCT (45), Akwa Ibom (16), Kano (12), Cross River (5), Kaduna (3), Abia (1), and Rivers (1).
"To date, 264,014 cases have been confirmed, 257,510 cases have been discharged and 3,148 deaths have been recorded in 36 states and the Federal Capital Territory," the report says.
It added that a multi-sectoral national emergency operations centre (EOC), activated at Level 2, continued to coordinate the national response activities.
Kindly like us on Facebook/twitter