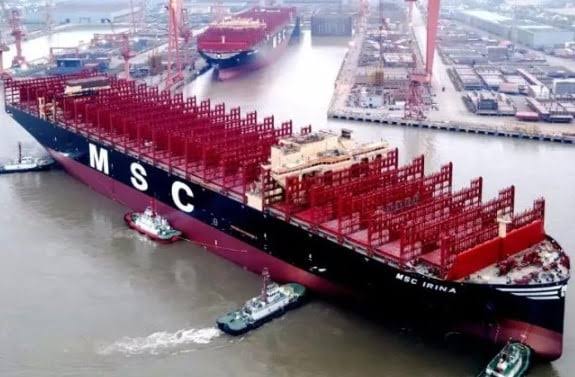 According to reports, World's Biggest Container Shipping Company, MSC, has ordered additional 10 LNG Fueled container vessels, each having a 10,300 TEU capacity, from China's Zhoushan Changhong International Shipyard.
Per the shipyard, this particular vessel type is the largest of its kind that can enter the Black Sea via the Turkish Strait.
The ships are said to be 299.95 m long and 45.6 m wide. They will have a moulded depth of 25 m and a design draft of 12.5 m with a 17.5 m structural draft.
The dual-fuel container ships are being developed and designed by CIMC Ocean Engineering Design and Research Institute.
The ships would attain a speed of 20 knots easily and possess the biggest C-type LNG fuel storage tank within its classification, enabling it to complete one round trip on China-Europe or China-US routes.
The ships' Energy Efficiency Design Index exceeds the benchmark set by IMO's Phase III emissions standards. Hence, they will lead to a 50% reduction in emissions.
Another major aspect of the ship's design is its special dual-fuel main engine and generator, optimised for using LNG as fuel and also configured for using Ammonia and Methanol as alternative marine fuel choices.
They will be fuel efficient and possess five pct lower fuel consumption than their counterparts of similar size.
The ships are estimated to be delivered by the end of 2026-2027. However, the pricing of this deal has yet to be shared by the companies involved.
Earlier, MSC had ordered 10 LNG dual-fuelled 11,500 TEU box ships from Zhoushan Changhong, and this order will be delivered between 2025 and 2026.
MSC has risen as the first ocean carrier to surpass a 5 million TEU in fleet capacity. Its fleet grew from 4 million TEU to 5 million TEU in just 22 months.
Per Alphaliner, MSC bought 306 container vessels with a 1.2 million TEU capacity since August 2020. Also, the Swiss-based container shipping giant has the largest order book by far in the maritime industry, with 130 containerships on order.
Changhong Shipyard, China, signed 16+4 newbuild orders in 2023, including LR2 product tankers and LNG dual-fuelled containerships. The shipyard has 48 vessel orders currently.