The Nigeria Customs Service, in an effort to modernise its operations have embraced information technology (IT), which include acquisition of scanners.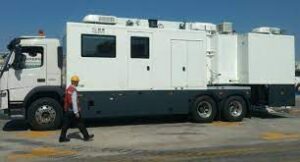 The service had long promised to acquire and install scanners at various entry points in the country.
Its Comptroller-General; Hameed Ali, had assured that in the process, all points of entry and exit would have scanners.
While justifying the acquisition of scanners, he had admitted that, Customs cannot facilitate trade manually, hence the need to embrace electronic operations. He also confirmed that the mass acquisition of scanners, was part of e-Customs agenda.
Sadly, for a long time, the promises to install scanners have either not materialized or the scanners have not worked in the few places where they had been installed.
Until recently, scanners that were installed at Seme border, as well as Lagos and Onne seaports had not been out to use.
The quest for scanners has also led many stakeholders to express their belief that the Federal Government should fully digitalise and automate port processes to reduce the influx of people, and also arrest the issue of corrupt practices.
Scanners have been introduced to the cargo clearance procedure as far back as when Destination Inspection was introduced and the Federal Government entered into a seven-year contract with the destination inspection service providers, namely: Cotecna Destination Inspection Limited (CDIL), Global Scansystems and SGS, to build and operate inspection equipment.
Scanners are crucial tools in destination inspection of cargoes, because otherwise every container must be opened and physically examined, which will be time-consuming and makes room for mistakes and possible abuses.
We recall that the scanners were handed over to Customs at the expiration of the destination inspection contract in December 2013, making the Service responsible for the operations of the scanners. But frequent breakdowns made the scanners unavailable and this made Customs to go back to 100 per cent examination of containers.
In the good old day when the scanners were available, Customs has confirmed that at a point when the scanners were working at full capacity, Apapa customs alone used to scan between 450 and 500 containers in a day. It even had to run day and night shifts among its officers.
The scanners were handed over to the Nigeria Customs Service in good condition, but not long afterwards, the scanners started malfunctioning.
In defence, Customs claimed that the destination inspection companies handed over near-dead scanners to them.
We recall that there was a lot of back and forth over the repair of the scanners, and after a long battle to fix them, the Nigeria Customs Service gave up and asked its officers to go back to physical examination of containers.
There were allegations that the scanners were actually sabotaged by personnel of the Customs to pave the way for 100 percent physical examination.
While there is no evidence of sabotage, can we also ask- Was the Customs fully prepared for destination inspection and 'ownership' of the scanners when it took over, aren't the officers more comfortable with physical examination which allows them freeway? The questions are endless.
More importantly, why did the successive Customs management fail to pay attention to an item that will help the Service to carry out its assignment more efficiently?
There were questions about the type of contractual agreement that existed between the Nigeria Customs Service and the destination inspection service providers, especially as it concerns the scanners.
It is shocking that the Build Operate and Transfer (BOT) agreement reportedly did not include maintenance of scanners after the contract's expiration.
While there were no scanners, personnel of Nigeria Customs Service (NCS), National Agency for Food Drugs Administration and Control (NAFDAC), Nigerian Ports Authority (NPA), State Security Service (SSS), Nigeria Police, National Drug Law Enforcement Agency (NDLEA), Standards Organisation of Nigerian (SON) and others had a field day.
The result is that Nigerian ports have become very expensive, and a fertile ground for sharp practices, including importation of arms and ammunition.
The Independent Corrupt Practices and Other Related Offences Commission (ICPC) had also frowned at 100% per cent physical examination of cargoes at ports by officers of Nigeria Customs Service, saying that it poses significant corruption risks to port processes.
This verdict was contained in a final report of Corruption Risk Assessment conducted by the ICPC in six major Nigerian ports; Tin Can, Port Harcourt, Onne, Warri and Calabar ports.
Back to the present. Since the scanners became operational at Lagos ports, there have been a deluge of criticisms by licensed customs agents.
They lament that, rather than hasten the process, the scanners are causing delays to cargo clearance.
Surprisingly, they complained that the scanning machines are causing a lot of delays in the cargo delivery process, in turn which causes them to pay demurrages and storage charges.
Strangely, some Customs officers have alleged that some clearing agents are frustrating the scanning process by requesting for 100 per cent cargo examination.
While seeking for understanding and cooperation to get the scanner into full scale operations, the National Public Relations Officer, Nigeria Customs Service (NCS), Deputy Comptroller Timi Bomodi said the stakeholders would need to exercise patient for the scanners to gradually scale into full operations.
He said: "All these complaints are totally unnecessary at this time. Nobody starts a car and pulls out in full speed. You build up speed. Besides, there are still other parties whose job it is to present containers for scanning. It takes time for the team to blend before hitting top speed."
There is no alternative to scanning in our ports. The advantages are numerous. So, the little hiccups being experienced are teething problems. The least that the machines can do is to detect unwanted cargoes from coming into the country through the seaports. Any maritime industry stakeholder who kicks against the re-introduction of scanning machines is a saboteur.
However, with this high expectation, we are also worried that the deployment of scanners to the nation's seaport is not likely to stop corruption. It will certainly reduce bottlenecks in operation and increase sensitivity and cargo delivery time at the ports.
In conclusion, we align with the position of the Customs spokesperson, that stakeholders, especially clearing agents should give the scanners and their minders time to get the system running perfectly.
Kindly like us on Facebook/twitter