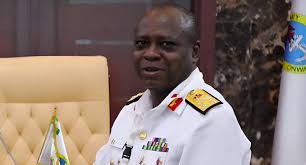 The Nigerian Navy, Forward Operating Base (FOB) Formoso on Thursday handed over a fishing trawler; MFV Dr Marius-1 and its 14 crew members to the Federal Department of Fisheries in Bayelsa.
The trawler was arrested on Tuesday while trawling within an area reserved for artisanal fishing boats, that is 4.8 nautical mile from the base shore around Middleton River without operating automatic identification system (AIS).
The handing over was held at a brief ceremony at the Forward Operating Base, Egwema, Brass, and performed by the Commanding Officer, Capt. Murtala Aminu Rogo, represented by the Executive Officer, FOB, Commander Dantani Ishaku Bukar.
He said that the act violated the Sea Fisheries Act of 1992, adding that such maritime infraction among others, would not be tolerated by the Nigerian Navy.
"Let me also add that the Nigerian Navy will not relent in its efforts toward policing and enforcement of maritime laws.
"To this end, I wish to advise all mariners to be law abiding as they engage in the Nigerian maritime domain.
He said fishing companies and agents must pay particular attention to the instructions on the Form B issued to them by the Federal Department of Fisheries as licence and same must be communicated and understood by the vessel crew, to avoid any form of infringement on the law.
The commander said the Nigerian Navy under the leadership of the Chief of the Naval Staff, Vice Admiral Emmanuel Ikechukwu Ogalla, was determined to ensure that Nigerian maritime domain remained secured and safe for legitimate businesses to thrive towards building a strong nation.
The commander said he was performing the exercise in line with the provisions of Harmonized Standard Operating Procedures on Arrest, Detention and Prosecution of Vessels and Persons Act 2016.
He said that the Nigerian Navy was determined to ensure that the maritime domain remained secured and safe for all legitimate businesses towards fulfilment of national security objective