The Nigerian Navy (NN) has reaffirmed its commitment to continue to safeguard the nation's maritime domain against crude oil theft and other criminal activities.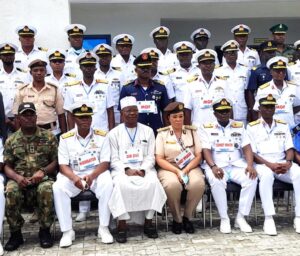 The Chief of Naval Staff (CNS), Vice Adm. Awwal Gambo, made this known while briefing newsmen on the service's 65th Anniversary Celebration at the Naval Headquarters in Abuja.
Gambo was represented by the Chief of Policy and Plans, Naval Headquarters, Rear Adm. Christain Ezekobe.
The CNS explained that the 2021 celebration would be focused on the achievements it had recorded so far and the ongoing fight against crude oil theft and other criminal activities in the nation's maritime environment.
"Upon my assumption of duty on Jan. 29, I clearly stated my plans towards achieving the charge given to me and other service Chiefs by the President to jointly address insecurity in the country, particularly the maritime domain.
"In line with these, the NN, being the service saddled with the core responsibility of protecting Nigeria's maritime environment, has since then recorded some significant achievements," he said.
Gambo noted that the feat was through capacity building, being one of his cardinal objectives to improve maritime security in Nigerian waters and the Gulf of Guinea.
"The maritime threats that have significant effects in Nigeria's maritime environment were piracy and sea robbery, crude oil theft, illegal oil bunkering, smuggling, Illegal Unreported and Unregulated Fishing (IUUF).
"Insurgency, hostage taking as well as human and drug trafficking," he added.
The CNS, however, explained that the NN had so far trained personnel in various capacities to enable them combat these challenges.
He explained further that the service had also adopted the Total Spectrum Maritime Strategy (TSMS) to guide its operational engagements.
The strategy is based on a proactive layered response within five conflict spectrums characterised by distances to and from the coast.
According to Gambo, all these efforts are geared towards ensuring that the nation's economic asset is safe and secured for the benefit of the country and Nigerians.
"Within the last four months, the NN conducted and also participated in 13 Exercises and operations geared towards combating illicit activities in Nigeria's territorial waters especially, the back waters.
"Pertinently, these exercises and operations which are considered as game changers include: exercise 'TSARE TEKU', exercise `SECURED WATERS', excercise `AMJI JIJI`.
"Operation `RIVER SWEEP', operation `CALM WATERS' and operation `TRI-PARTITE JOINT BORDER PATROL', among others," he said.
He added that some combined exercises such as exercise `OBANGAME EXPRESS` were also conducted in collaboration with regional and international navies and other maritime stakeholders for securing the nation's maritime space and the Gulf of Guinea.
Gambo stated that the NN has deliberately instituted dedicated operations and initiatives to enhance its policing capability towards the peaceful use of the nation's maritime environment.
"These initiatives have engendered several recorded successes in NN's operational bases. For instance, 13 incidents of piracy attacks were recorded from July to December 2020.
"However, as from January to May 2021, there were only five pirate attacks. The rate of pirate attacks have been on the decline from what was witnessed in the last half of the Year 2020."
This, he attributed to the increased number of hours and sustained presence at sea.
He added that the service had also performed credibly well in the fight against crude oil theft and illegal oil bunkering considering the short period that his administration assumed the mantle of leadership.
"The NN has through operations conducted by operational Bases and Forward Operating Bases (FOBs) cumulatively deactivated a total of 95 illegal refineries between January and May.
"These activities were complemented with series of swamp buggy operations in the areas where illegal refineries were discovered.
"From records, 477 illegal refining sites were de-activated between July and December 2020. This figure drastically decreased in the last four months, from January to May, to 95.
"The reduction in the number of illegal refining sites de-activated can be attributed to the ongoing swamp buggy operations in the Niger Delta which makes it difficult for perpetrators to re-activate immobilised illegal refining sites."
Gambo added that the service had also recorded successes in anti-crude oil theft operations which had so far drastically reduced illegal oil dealings within the Nigerian maritime environment.
"For instance, the NN denied criminal oil entrepreneurs about 128,612 barrels of crude oil valued at about N2,598,219,624 and 15,317,150 litres of diesel (AGO) valued at over N3 million.
"Additionally, approximately 5,150 litres of petrol (PMS) valued at about N1 million and 3,193,251 litres of kerosene (DPK) valued at about N606,717,690 were impounded from criminals between January and May 17.
He attributed this feat to the increased effort of the NN operations Bases especially, through operation `RIVER SWEEP`.
"Another key contributing factor to the success is the Naval Headquarter sensitisation and directives to all Bases on zero tolerance to crude oil theft and illegal bunkering activities," the CNS stated.
Gambo, however, expressed optimism that the activities of crude oil thieves and other criminal activities happening in the nation's maritime domain would witness drastic changes.