The Nigerian Content Development and Monitoring Board (NCDMB) has brokered a partnership with the Bank of Industry (BoI) for industrial parks fund to encourage in-country manufacturing across the oil and gas value chain.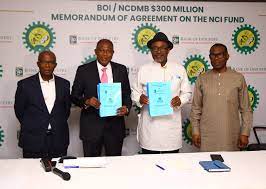 Mr Simbi Wabote, Executive Secretary, NCDMB, during the signing of Memorandum of Understanding (MoU), in Lagos, said the two parks were located at Bayelsa and Cross River states.
Wobote said the BoI would bring to bear its developmental stride and as provide counterpart funding in support of indigenous manufacturing companies.
He lauded the BoI for the successful disbursement of the $300 million Nigerian Content Development Fund (NCDF) to over 60 eligible beneficiaries to solve funding issues in the oil and gas sector.
He, however, noted that the park scheme partnership was different as applicants needed not to be contributors to the Nigerian Content Development Fund (NCDF).
Wabote said the fund would support businesses that want to establish themselves within the industrial parks built by the NCDMB as long as they were domiciled and manufactured within the parks.
He added that some of the benefits of the parks included incentivised loan scheme and accommodation, training facilities and adequate security infrastructure.
Others, he said, were free rent until the businesses started manufacturing and making money, a one-year moratorium and a five-year pack-back period for potential occupants of the park.
"We have two of those parks that are ready to be inaugurated before the end of the year and we are in the process of getting tenants into those parks to manufacture oil and gas equipment in the country.
"It is highly incentivised to encourage manufacturers to establish themselves at the parks.
"Today, we pride ourselves that about 98 per cent of contracts in the oil and gas sector are given to Nigerians.
"However, when you look really deep into the components and equipment used, you realise that the manufacturing capabilities of the country have been limited and so we want to up the game in manufacturing with this initiative.
"The park is all-inclusive in terms of 24-hour security, services and power which is one of the greatest challenges for manufacturers," he said.
Also, Mr Olukayode Pitan, Managing Director, BoI, revealed that the $300 million NCIF to 62 indigenous businesses recorded close to 100 percent repayment.
Pitan encouraged manufacturers particularly players in the oil and gas sector to take advantage of the spaces available at the parks and count on BoI to provide the necessary facilities to aid manufacturing.
"With the success of the NCIF, we have decided to extend the products and I tell you that the interest rates are very good; less than 10 per cent.
"The fund would ensure that Nigerian companies are supported, the factories are working and the local content in oil and gas sector becomes shored up," he said.
shippingposition
Kindly like us on Facebook/twitter