The Nigerian navy and its Ghanaian counterpart, on Friday, in Abuja, agreed to partner to secure the maritime domains of their two countries against piracy and other criminal activities.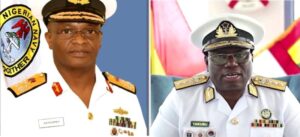 Nigeria's Chief of Naval Staff (CNS), Vice Adm. Awwal Gambo, and his Ghanaian counterpart, Rear Adm. Issah Yakubu, agreed to the partnership when the latter paid a visit to the Naval headquarters, in Abuja.
Gambo noted that the partnership had become imperative due to the activities of pirates and other criminal activities in the maritime domain of the two countries.
Recalling that both countries had enjoyed long brotherly relations in the areas of economic, education, military training and cooperation, Gambo said that similar relations equally manifested in the interactions between their navies.
The CNS noted that the Gulf of Guinea was threatened by the activities of criminal elements, who were taking advantage of the limited capabilities of the navies in the region to adequately secure the area.
Gambo stressed that the threat posed by the activities of these elements constituted a major challenge not only to the littoral states, but equally undermined regional development and global trade.
"Notably the trans-boundary and transnational nature of maritime crimes makes the security of the environment a task beyond the capacity of any country acting alone.
"It is against this backdrop that this bilateral engagement was convened by the Heads of our two countries towards addressing the maritime security challenges within the region", he said.
Gambo expressed his optimism that the partnership would foster greater collaboration and burden sharing hinged on the cooperative maritime security framework as envisioned in the 2013 Yaounde Protocol, to strategically address maritime security and enhance the economic prosperity of the region.
"I have no doubt that the partnership will further strengthen the existing cordial bilateral relations between the two countries as well as the navies", he added.
Earlier, Yakubu stated that he was visiting his Nigerian counterpart to forge a partnership against the activities of pirates and other criminals operating in the maritime environments of the two countries.
The Ghanaian CNS noted that the only way out of the challenge was for the two countries' navies to form a partnership to tackle the menace headlong, citing in particular the need for mutual information sharing.
"What is happening in the Gulf of Guinea at the moment is not too good for both countries maritime environment. Therefore, there is need for a partnership of this nature, to be able to tackle the ugly situation headlong", he said.
He expressed the optimism that the partnership would go a long way in addressing the challenges and change positively change the narrative.