Nigeria will be able to send more liquefied natural gas (LNG) to Europe by winter. The Minister of State for Petroleum Resources made this known last week.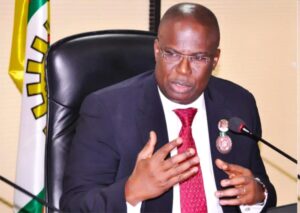 Speaking during the Gastech 2022 conference in Milan, Italy said Nigeria is currently delaying additional gas deliveries because of security problems, maintaining that it would build a pipeline for Nigerian gas through Algeria to Europe.
Sylva said Nigeria would soon decide on the investment to build the infrastructure and the project will likely cost more than $10 billion.
"Nigeria and Algerian state oil companies would be involved in this process and other private investors have also shown interest," he said.
Nigeria, whose oil reserves hit nearly 37 billion barrels, has 3.1 per cent of the world's reserves.
The country, which is among the top 15 countries in crude oil production, ranks eighth in oil reserves and sixth in oil exports.
You will recall that it was reported a couple of days ago that Sylva said Nigeria was positioning itself to become a major gas supplier to Europe following the global energy crisis caused by the ongoing conflict between Russia and Ukraine.
Sylva maintained that funding of gas development actually at this point was a win-win for Europe and Africa.
He said, "Today we are seeing gas being weaponised and every country will at least require some alternative supply.
"So, we are positioning ourselves to be an alternative supplier to Europe. We are already working with Algeria to build the Trans-Sahara Gas Pipeline that is going to take our gas all the way to Europe.
"We are also having a partnership with Morocco to extend the West Africa Gas Pipeline to Morocco and across the Mediterranean to Europe.
"We believe that Europe needs this gas and it is a win-win for all of us and it is in their interest to reduce these discriminatory investments that their banks are doing."
Kindly like us on Facebook/twitter