The National Inland Waterways Authority (NIWA) has decried the increase in boats' mishaps within the nation's waterways, leading to loss of innocent lives.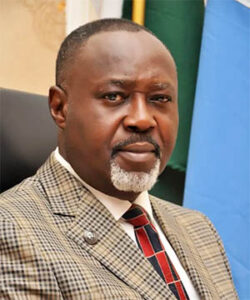 NIWA's Managing Director, Dr George Moghalu, said this in an interview on Tuesday in Lokoja.
Moghalu, who spoke through the Agency's General Manager, Corporate Affairs, Mr Jibrin Darda'u, said that the spate of boats' mishaps in the country was "very surprising" and unacceptable to the Authority.
"We shall, henceforth not tolerate any form of carelessness from operators of boats across our waterways, and have put in place measures to sanction defaulters and violators of our rules and regulations.
"We have already banned night journeys and ferrying along the waterways. This is because you can hardly tell what is ahead of you at night.
"NIWA has constituted a taskforce toward checkmating the unruly behaviours and illegal activities of service providers on our waterways, and to ensure strict adherence to our safety guidelines.
"We have police stations across the ports to help in arresting and prosecuting recalcitrant captains and enforcement of the authority's rules and regulations, besides the taskforce put in place. "
Moghalu said that board captains were being trained regularly to navigate safely, and enlightened on safety tips, especially, on the needful them to avoid drugs.
According to him, the board captains are also trained to avoid overloading and speeding, as well as checking the engines and hull conditions.
He described passengers' non-compliance with safety tips such as: wearing life jackets, avoiding standing and shifting while on board, as very saddening.
The managing director also kicked against the non-checking of the weather before sailing by boat operators.
"NIWA is always working in synergy with the Nigerian Metrological Agency (NiMet) for tips and early warnings on weather conditions for effective, efficient and safe navigation of boats on the nation's waterways.''
He advised state governors to invest more in providing modern boats and equipment, to help improve water transportation and ensure the safety of passengers using the country's waterways.
"This will serve as part of the dividends of democracy to the electorate, ensuring the ease of transportation and mostly increasing states internally generated revenues (IGRs).
"We expect other state governors to emulate the Lagos State Governor, Mr Babajide Sanwo-Olu, by buying new boats for operators of waterways transportation.
"This will help in reducing the carnage along the waterways in the country," he advised.
Kindly like us on Facebook