The Managing Director of NIWA, Dr George Moghalu has received an Honorary Doctorate Degree Award in Public Administration from Gregory University, Uturu, Abia .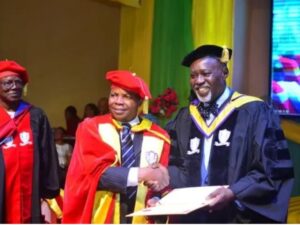 The NIWA spokesperson, Alhaji Jibril Darda'u, in a statement on Sunday, said Moghalu was given the award at the Seventh Convocation Ceremony of the university on Saturday, Dec.10.
According to the him, the Vice Chancellor of the University Prof. Uwakwe Amadikwa selected Moghalu for the award (Honoris Causa) for his track record in Public Office and contributions to national development.
Responding, the managing director of NIWA thanked the University for finding him worthy of the degree.
Moghalu promised to do more in his contribution to the Social, Economic and Human development of the school and its environs and for the country at large.
"I will not let the university down in the trust bestowed on me, rather I will continue to do more and more for the nation," he said.
shippingposition
Kindly like us on Facebook/twitter