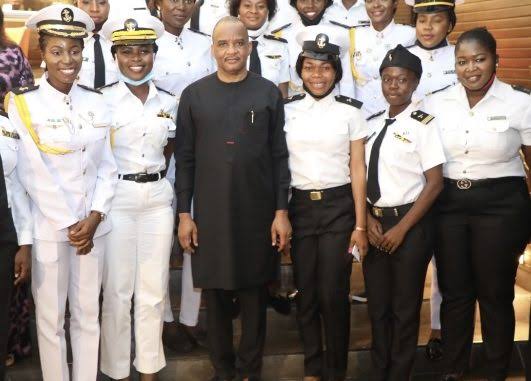 In a brazen display of frustration and pent-up grievances, a multitude of Nigerian seafarers and youths have taken to X (formerly Twitter) to lambast the Director-General of the Nigerian Maritime Administration and Safety Agency (NIMASA), Dr. Bashir Jamoh over delays in obtaining critical certifications needed to advance in their careers, among other opportunities.
Our correspondent who followed a series of comments in reaction to post of accomplishments by NIMASA, noted that the youths' angst resonated with demands for swift action on longstanding issues that have plagued the maritime sector.
This is even as the outcry brought to light the challenges and difficulties faced by the cadets, who have been grappling with endless delays in obtaining critical certifications and opportunities.
Checks by our correspondent on the X space (Twitter) noted that on numerous occasions, Dr. Bashir Jamoh has taken to his Twitter handle to share achievements, celebrate milestones, and highlight the agency's activities. However, his posts have consistently ignited a flurry of negative responses from youths and seafarers who are tired of waiting for their concerns to be addressed.
Every post by the NIMASA DG has offered opportunities for the youths to ambush him and criticize the agency he superintends.
One instance that triggered this public outcry occurred on October 27 when Dr. Jamoh expressed his jubilation over the Supreme Court's affirmation of President Bola Ahmed Tinubu's electoral victory. While the DG's post exuded optimism, it also became a platform for seafarers and cadets to vent their frustrations
One response from Twitter user; Mr. Fabulous AU whose handle is @anthonyihedioha, encapsulated the deep-seated issues faced by maritime cadets. He pleaded with Dr. Jamoh, saying: "Please sir, in the spirit of this celebration, use it to sign the payment of the Philippines-bound cadets for CoC. It has been 2 years now since they were shortlisted. Please revive our careers as getting our license is very important for our future."
Another user; Darl M.A (@saintdarlynstar), brought to light the fact that hundreds of cadets on NIMASA scholarships had completed their onboard sea time after an agonizing 8-year wait. They now stand on the precipice of graduation, pending arrangements with foreign institutions for thesis defence sessions and the critical COC certification. Eight years of uncertainty have taken a toll on their patience.
He posted "There are hundreds of cadets on NIMASA scholarship that have completed their onboard sea time, after 8yrs of waiting they now await NIMASA to arrange with the foreign institution for thesis defence sessions before graduation and the needed COC certification 8yrs and counting."
Also expressing frustration and demoralization, yet another youth;  Seamechanic (@Donald Prezi) reiterated the urgency of the matter, stating, "Sir @JamohBashir, please, we're begging you in the name of God, please sign the necessary documents for the payment of batch 2021 CoC students. The delay has taken too long and it's really frustrating, demoralizing every single student."
Our correspondent reported that this sentiment echoed across multiple responses, highlighting the psychological and professional toll these delays have taken on young cadets who should be the future of Nigeria's maritime industry.
Also, the responses were not without a touch of impatience. One Sadiq Suleiman (@SadiqSu89240054) warned: "You will not be spared ooo. Finish your congratulations and wait for handing over ehe."
Yet on October 26, Dr. Jamoh shared his experience at a maritime symposium in Brazil on the social media platform X. One response urged action for NSDP (Nigerian Seafarers Development Program) cadets who have been waiting for 10 years to obtain their CoC.
He said: "Pls sir, do the needful for the NSDP cadets scheduled for CoC in the Philippines for the sake of national interest… maritime capacity built already should not be thrown away..10 years and still cadets"
On October 14, Dr. Jamoh had posted awards received for NIMASA's achievements. But, the reactions that followed the post highlighted the frustration of NSDP cadets waiting for CoC, seafarers' struggling with the non-availability of discharge books, and the need for action on pending matters.
One of the seafarers; @CollinsUmaini posted "@JamohBashir, we humbly request you sign the necessary documents for the departure of the 177 NSDP/NIMASA cadets who were shortlisted since 2021 for CoC Licensure Examination in the Philippines. The frustration, depression and suffering is unbearable. Thanks".
Another Twitter user; Seamechanic with the handle @DonaldPrezi posted "Sir @JamohBashir please we're begging you in the name of God, please sign the necessary documents for the payment of batch 2021 CoC students. The delay has taken too long and it's really frustrating, demoralizing every single student".
On October 15, Jamoh discussed a potential collaboration with the Michael Imoudu National Institute for Labour Studies (MINILS). He posted same on X. However, the responses continued to emphasize the urgent need for action on the issues facing NSDP cadets and Romanian cadets' CoC.
A Twitter user with the name Gold Sam and handle @Freebir02246103 posted "Sir, please sign the MoU for the Romanian to facilitate their CoC. No Romanian cadet has been privileged to own a CoC after several years of graduation. Please sir, we are not getting younger".
Another @DeadManChest909 posted: "The capacity already developed, if nothing is done now will be put to waste. Please Sir, NSDP CADETS SCHEDULED for CoC in the Philippines should be attended to now. Delay is injustice ".
Also on October 3, the DG NIMASA highlighted the NIMASA Skills Acquisition Center and its role in enhancing human capacity development. However, rather than being commended, the DG was again lampooned for the delay in sending NSDP cadets for their mandatories and their CoC and concerns about the conditions of Nigeria Maritime University Okerenkoko.
Twitter user; Uchenna Ezeogu @uchenna_Ezeogu posted "Please sir remember Nigeria Maritime University Okerenkoko, the condition of staff and students of the institution is terrible. Please investigate it yourself and help the institution from dying".
Another Twitter user @Redemption0007 posted, "Sir, please try and send your NSDP cadets for their CoC, because some of them have stayed home for over 7 years".
On October 1, NIMASA joined in celebrating Nigeria's Independence Day. The response questioned the celebration, citing the pain of those waiting for their CoC for years and the limited job opportunities within NIMASA. One post stated "How can the people waiting for their Coc for over 7 years now celebrate?  With so much pain in their hearts… you guys in NIMASA are very wicked"
Another response also stated: "CoC for NSDP Philippines cadets!!!So we can feel great too".