In spite of the pandemic caused by Covid-19, Panama Ship Registry continues to grow. During the first four months of this year, 104 newly built vessels were registered, representing 3.2M GT, showing that the Panamanian Register remains the flag of preference and most favorable option thanks to the country's legal security.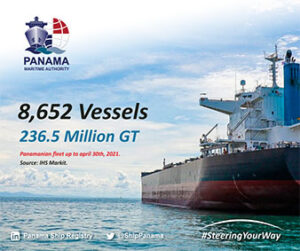 The fleet's performance reached 96.6% compliance at the end of the first period of 2021, according to the results of the Port State inspections in the different supervision regimes established around the world.
The Port State inspections to ships arriving in Panama amounted to 218 inspections, in the first four months of 2021, significantly exceeding those carried out in recent years. This is because of the efficient use of resources, coordination and the commitment of human talent to fulfill their tasks and improve results.
At end of April 2021, the Panama Ship Registry fleet aggregated 8,652 ships with 236.5M GT, according to IHS Markit, an increase of 1.6% in the number of ships and 2.58% in tonnage compared to December 2020.
Customer service and global expansion are important objectives for the Panama Maritime Authority (AMP) administration, for which both Segumar's international technical offices and its head office based in Panama, work 24/7 for the benefit of the Panama Ship Registry's customers.
Rotterdam-based MVRDV is an international architectural office that develops contemporary solutions in the field of architecture, urban development and landscape architecture in regions the world over. MVRDV – founded in 1993 by Winy Maas, Jacob van Rijs and Nathalie de Vries – has a multidisciplinary approach in which it strives to utilise as many innovative and sustainable technologies as possible. This results in distinctive, forward-looking projects that help our cities and landscapes to move toward a brighter future. Well-known projects designed by the firm include Markthal and Depot Boijmans Van Beuningen in Rotterdam, the Tianjin Binhai Library in China, Skygarden in Seoul and the Pyramid of Tirana in Albania.
Kossmanndejong develops spatial narratives and visitor experiences for museums, organisations, events and the public space. The Amsterdam design agency was established 25 years ago by architects Herman Kossmann and Mark de Jong, and has since grown to employ over 30 people. Its portfolio includes over 100 projects worldwide, bearing responsibility for, among other things, the visitor experience in the Dutch pavilion at EXPO2020Dubai, Lounge 2 in Schiphol, Bern's Museum fur Kommunikation and Micropia at ARTIS Amsterdam Royal Zoo. Kossmanndejong has been recognised with a variety of awards. Only recently, two of the museums that house projects designed by the agency were presented with a European Museum of the Year Award: Naturalis (The Netherlands) in 2021 and the Stapferhaus (Switzerland) in 2020.