About 27 months after they were stopped by operatives of the Nigeria Immigration Service (NIS), officials of Port Health Services (PHS) on Thursday returned to their duty posts at the departure hall of Seme border.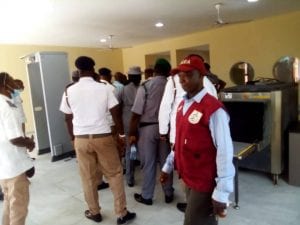 A News Agency of Nigeria (NAN) correspondent who monitored activities at the Nigeria-Benin Republic border in Seme, reports that the PHS officials on Thursday opened operations at departure section of the new ECOWAS pedestrian walkway.
The PHS officials were only allowed to check health status of travellers arriving into Nigeria since they were banned from operating at the departure hall by the Immigration on February 2, 2019.
The Officer-in-Charge of PHS at Some border; Mr R.A. Ogungbayi., told NAN that his men were happy to be back at the departure hall after they were stopped by the Immigration over two years ago.
"Despite the fact that the Minister of Health, through the Director of PHS, had mandated the health officials to perform entry and exit screening of passengers at the Port of entry and exit, at land borders, we have been restricted to arrivals alone.
"But today, two years and three months, PHS operatives are back at their duty post at both the arrival and departure halls, with the opening of the pedestrian walkway for travelers coming in and out of the country.
"This is victory for the PHS and it is in the best interest of Nigeria and the international community, as it is the right step in the right direction, for border health security agenda," Ogungbayi said.
Mr Emmanuel Sewedo, a Nigerian traveling to Benin Republic through the pedestrian walkway, commended operatives of both countries for making use of the walkway.
"As you can see now, the Nigeria-Benin border post is neat and not rowdy like before.
"The post is now mainly for vehicles and trucks coming from different countries and the officials of the two countries are there to check them.
"This also applies to us in the walkway, we are being checked by their officials and it is very fast," he said.