Port resilience is described as the capacity of ports to anticipate and respond to changing situations, as well as to survive and/or quickly recover from disruptions, with the goal of preserving the sustainability of operations and flow of cargo to, from, and through ports.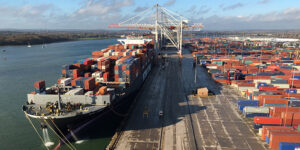 Due to the multitude of interdependencies inherent in supply chains, the breakdown of any node in the network can have an immediate impact on demographics, their safety, and well-being, as well as on the regional economy and its enterprises.
Why is it critical for ports to be resilient?
Ports are responsible for linking the world economy, handling roughly 90% of all global trade. Additionally, the shipping industry generates approximately 940 million tonnes of CO2 each year, accounting for roughly 2.5 % greenhouse gas (GHG) emissions.
In port operation and management, the concept of resilience becomes more essential as a transportation node, supply chain, and regional economy become more significant. Because ports are susceptible to a variety of interruptions, it is critical to have facilities and operations that are capable of quickly recovering from a setback. This suggests that a maritime transportation system is capable of learning and adapting to past setbacks.
Disruptions impacting ports
Disruptions can stem from a variety of factors; some are foreseeable, many are accidental, and others are unanticipated. Problems can be intrinsic to port operations if they are caused by reasons within the port's jurisdiction, such as equipment failure due to bad maintenance or a security breach caused by a lack of safety measures. Ports can also be affected externally when the causes of the events are beyond the port's authority, such as a hurricane or an economic crisis.
A. Severe weather conditions
As is the case with the majority of means of transport, maritime transportation can be affected by extreme weather conditions. When it comes to extreme weather, however, ports have one of the most robust infrastructures in the business. Snowstorms, thunderstorms, and strong winds can disrupt crane operations and possibly collapse containers, but the risk of infrastructure damage is minimal. Extreme heat can endanger port activities and destroy structural components by thermal expansion. Hurricanes are the ones to worry about, as they can shut down port operations for several days while floodwaters recede and debris is cleaned.
Additional natural dangers to port operations exist under the umbrella of multifaceted consequences of climate change, many of which are uncertain and difficult to quantify. Along with the risk of hurricanes, sea-level rise is a direct worry for port activity. Port terminals, on the other hand, are robust structures intended to withstand tidal ranges. Any anticipated sea-level rise will almost certainly have an effect on nearby infrastructures, such as access roads, before wreaking havoc on port infrastructure. Climate change may also have an effect on ports' hinterland linkages.
In late May 2021, Cyclone Tauktae had wreaked havoc on India's west coast. The storm had a devastating effect on the Indian state of Gujarat. The Port of Pipavav had to halt operations until 1st June 2021 in order to compensate for the damage caused by Cyclone Tauktae. The port's infrastructure remained intact, and no fatalities were recorded, although the port was impacted by a power outage.
B. Human-induced disruptions
Accidents
Anthropogenic disruptions are linked to human activities, especially management and operational failures and labor disorders. While terminal facility accidents can be obstructive, the vast majority have a negligible effect on total capacity. Ship maneuvering errors have caused damage to piers and even toppled cranes, ending in terminal capacity loss and the need for costly repairs. Although infrastructure and machinery mishaps might produce periodic disruptions, they can be minimized through predictive maintenance and operational security.
Accidents in the access channel could also partially or completely shut port terminals or transoceanic routes. In the most unpleasant situation, an accident on the port's access route (fairway or lock) could result in the port's whole or partial closure. The repercussions of a port blockade vary by port, depending on the available alternatives. A blocked entry has the direct consequence of preventing maritime traffic from entering the port for the period of the blockage. This would mean that routine maritime activities would come to a standstill for at least a few days, if not months.
One of the biggest non-nuclear explosions in history destroyed the Beirut port and ruined more than half of the city on August 4, 2020, owing to decades of government mismanagement and corruption at the port. The catastrophe was caused by the explosion of tonnes of ammonium nitrate, a highly flammable chemical substance that is often used in agriculture as a high-nitrate fertilizer but can also be used to make explosives.
Labor conflicts
Strikes caused by labor conflicts can potentially hinder port and terminal operations, resulting in a de facto port or terminal closure. Labor unions are often prominent in port environments, however, significant disparities in union power exist between seaports and countries. Labor unions (representing dockworkers and pilots) initiate the majority of port strikes in opposition to proposed port reform schemes, legislation of nautical service provision, wage levels, and compensation, and overall working environment and provisions as part of collective bargaining agreement negotiations.
Kindly like us on Facebook