Block stowage is the method of segregating and storing containers or cargo onboard a ship so that those meant to be offloaded at a specific location are stacked together. This is to overcome the nightmare scenario that we discussed at the beginning of this article.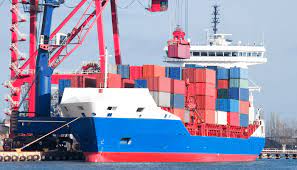 Block stowage helps to offload cargo and containers quickly and conveniently once the vessel reaches a port and restowing can be avoided.
When containers are arranged as block stowage, the stevedores do not have to search for the cargo to be offloaded as all the containers on board are segregated and marked effectively, by destination port.
This helps to offload containers easily saving time and effort. It avoids unnecessary delays at ports. When a ship is delayed at the port the vessel owner has to pay the additional charges levied by the port as well as incur all other expenses of the crew of the vessel.
· Dangerous Goods and Block Stowage
When dangerous goods are transported by sea they have to be kept separately and away from other goods following the principle of block stowage.
Other than the rules prescribed by the IMDG Code, MARPOL, and SOLAS, shipping companies have their own compliance documents for each vessel.
· Who is Responsible for Block Stowage?
The effective stowage of cargo on a ship is the stowage planner's responsibility. The ship stowage planner plays a critical role in ensuring that containers are stacked and stowed logically and safely onboard the cargo vessel.
Depending on the booking of containers, while some containers are loaded from certain ports, containers that are already on the ship have to be offloaded at their destination ports. This has to be planned so that there is minimal handling of containers.
Block stowage patterns aid in the easy loading and unloading of cargo by location. It is also useful in segregating dangerous goods to prevent accidents or to face any dangerous situations.
The efficient operation of a cargo vessel depends on the efficient stowage plan prepared by a stowage planner. The stowage planner has to plan block stowage in such a way that containers meant for a specific port are all stowed together.
The heavy ones should be stowed at the bottom. Those containers for the nearest discharge should be on top. Dangerous goods must be kept separately while ensuring their safety during handling and transport.
At the same time, the weight factor has to be also considered. An unevenly balanced weight onboard the ship can cause instability to the vessel.
As you can see, stowage planning is an effective combination of these different factors
Stowage plans are prepared manually by experienced stowage planners. Sometimes sophisticated stowage planning software is used by these planners.
When it is prepared manually, the utmost care has to be taken and all factors should be considered for the safety of the cargo as well as the ship.
Kindly like us on Facebook