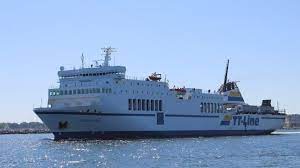 The Russian supply ship Lady R which was caught up in a controversial visit to South Africa in late 2022 has been identified by North Korean watches are making two visits to North Korea in the past month. The site NK Pro released a detailed analysis of high-resolution satellite photography identifying her as a vessel in North Korea's Rason Port.
According to NK Pro, the Lady R has been identified as the vessel loading in North Korea. Their report traces the movements of the vessel showing it had previously been in Africa but then returned to the Russian east coast. They report the vessel went dark stopping its AIS signal in early October.
Image analysis shows a vessel that matches the dimensions and look of the Lady R alongside in North Korea carrying out a loading operation. Another image earlier this week from Vladivostok, Russia shows the Lady R carrying containers identified to Fesco and Transcontainer according to NK Pro. They believe they spotted the Lady R today again alongside in North Korea's Rason Port.
These suspicious movements come after the United States cautioned that it believes Russia is buying ammunition and other military equipment from North Korea. The U.S. highlighted these moves as Russian President Vladimir Putin met with North Korean leader Kim Jong Un a month ago.
Since the meeting between the two leaders, the U.S. has reiterated its statements that North Korea is supplying weaponry and military equipment to Russia. NK Pro cites a report from the White House last week that identified another Russian ship, Angara (7,300 dwt Ro-Ro cargo ship), as transporting containers between the two countries. The U.S. asserted that it was military shipments.
A British think tank, the Royal United Services Institute (RUSI), also identified the Angara and a third Russian cargo ship making multiple trips to North Korea. They said a vessel named Maria (5,900 dwt Russian cargo ship also known as Lev Yashin) was spotted making trips between Rason and the Russian military port of Dunay.
It is not the first time allegations have been made that the Lady R is widely involved in the Russian arms trade. The 7,200 dwt Ro-Ro cargo ship was spotted on December 9, 2022, making a mysterious middle-of-the-night stop at South Africa's Simons Town Naval Base. Reports of the sighting sparked a political controversy in South Africa and the American ambassador staked his reputation saying the U.S. believed the vessel was loading military equipment.
After months of investigation, South Africa's President Cyril Ramaphosa said an independent panel found no evidence that the Lady R had loaded any military equipment for export to Russia. They contended the vessel was offloading materials previously ordered from Russia.
The Lady R has been tied to other suspicious trips and spotted making several transits into and out of the Black Sea. She and her owners MG-FLOT (formerly Transmorflot) remain under U.S. sanctions leveled in May 2022 related to the war in Ukraine.