The Nigerian coastal and inland shipping is dominated by ships that fly flags of other nations. Nigerian ship owners act as front for foreigners to trade on Nigerian waters. For these reasons, the Nigerian ship registry is not impressive.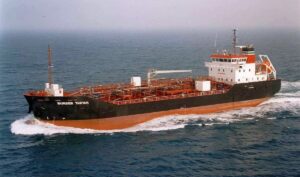 In our follow-up on the failure of the Cabotage Act of 2003, Shipping Position Daily newspaper has unearthed reasons behind preference for foreign flags, even by Nigerian ship owners and why many Nigeria ship owners prefer foreign flags to fly Nigeria flag.
Checks by Shipping Position Daily revealed that out of about 43 ships currently doing coastal tanker business in Nigeria, only four are owned by Nigerians. They are: MT Sea Horse, MT Keonamex Victory, MT Halima and LPG Alfred Temile. Out of the four, three fly foreign flags with just one flying Nigeria flag.
For Instance, MT Sea Horse, a Nigerian-owned vessel is flying the Marshall Island flag, while MT Keonamex Victory which is also owned by a Nigerian, fly the Panama flag. Similarly, LPG Alfred Temile, also owned by a Nigerian fly the Bermuda flag, leaving just MT Halima owned by a Nigerian as the only ship flying Nigeria flag and trading on Nigerian waters.
Shipping Position Daily investigations revealed deep-rooted conspiracy against the Nigerian local content intent of the Cabotage Act. This has pushed many Nigerian ship owners to embrace foreign flags.
Indigenous ship owners who spoke to our correspondents anonymously last week, alleged discrimination against Nigerian owned and flagged vessels from participating in coastal tanker businesses in the country.
One of the ship owner who also pleaded anonymity, confirmed to our correspondent that, some Nigerian shipowners acquire ships in foreign names and with a foreign flag in other to get contracts from the Nigerian National Petroleum Corporation (NNPC).
The ship owner alleged that the NNPC always prefer giving contracts to foreign-owned and flagged vessels, because "they (NNPC) do not have confidence in doing business with indigenous ship owners."
He alleged that NNPC is the major reason that, so many Nigeria shipowners are running out of business as a result of lack of patronage.
He said: "The major reasons some Nigeria shipowners prefer to fly foreign flag is because of the discrimination against ourselves, imagine NNPC preferring to give foreign shipowners contract than give Nigeria shipowners".
Revealing further, he said, "can I tell you, some of these so-called foreign ships are even owned by Nigerians, but with a foreigner fronting for them, why? Because as a foreign ship owner, there is 80% assurance that you get a contract ahead of a Nigeria owned and flag vessel".
"Until the National Assembly sanctions NNPC, this madness will not stop, they believe once it is a Nigerian ship it cannot do it, why should we allow foreign vessel operate in Nigeria coastal and inland waters without obtaining approval from the government, this is why you see some ship owners preferring to use a foreigner in acquiring some of their vessels and of course that carries foreign flag", he added.
"And that is the major reason our ship registry is not vibrant and we have so many businesses like that in Nigeria; owned by Nigerians, but a foreigner is fronting because the business environment is not conducive, you see EFCC running after them, questioning how and where you got the money, oh he is anti-APC or anti-PDP, we can't let him run that business and that is what has affected us so far" he said.
According to the Nigerian Maritime Industry Forecast 2018 –2019, in 2016, the number of Nigerian flagged vessels almost doubled as a total of 370 vessels with a total tonnage of almost 420,000 metric tons were recorded while in 2017, a total tonnage of 415,638.03 were registered as Nigerian flagged vessels under the Cabotage regime.
According to statistics from the United Nations Conference on Trade and Development (UNCTAD), despite these impressive indices, Nigeria's share of national flag vessels remains at a dismal 0.2 per cent of the world's total fleet by flag registration.
Shipping Position Daily further checks also revealed that in 2020, about 265 ships with 6,485,000dwt owned by Nigerian 'beneficials' were registered in the foreign registry. This is according to statistics by UNCTAD, which added that the registries were owned by countries such as Liberia, Marshal Island, Singapore, Panama and among others.
Speaking about why Nigerians now prefer to fly foreign flags, instead of flying the Nigerian flag, the chairman of the Nigeria Ship Registry, Engr. Emmanuel Ilori, in a telephone chat with our correspondent, confirmed the development, even as he blamed the hostile business environment for reasons Nigeria ship owners prefer to fly foreign flags. He opined that until the country is business-friendly and conducive many of the ship owners will still prefer to fly a foreign flag.
According to him, "it's a very complex and complicated issue, that is going to take some time to resolved, the reform is ongoing, and one of the recommendations during the last administration is to make Nigeria registry to be business-friendly, and there is a whole lot of activities that needs to be carried out to make Nigeria more business friendly, obviously if Nigerian ship owners are using another country flag to come and do business in Nigeria, obviously it doesn't show Nigeria flag to be business friendly, so we need to show Nigeria flag to be that, that is business friendly, and the environment should be conducive for ship owners. There are so many things that are working against us that you investigated as a result of that problem" he said.
Also reacting to why some Nigeria ship owners prefer to fly foreign flag, the former President of Nigeria Indigenous Shipowners Association (NISA), Mr. Aminu Umar stated that there is no source of encouragement for those who fly the Nigeria flag. He alleged that there is no incentive for those who fly Nigeria flags while those who chose to fly foreign incentives benefit.
Kindly like us on Facebook