Business owners and traders around the Lagos ports' corridors have lamented loss of their long-built investments to the clean-up and the sanitation exercise that was carried out by the Nigerian Port Authority (NPA) in collaboration with the Lagos State Government last week.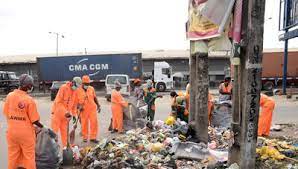 Shipping Position Daily recalls that NPA had in a statement issued by its General Manager, Corporate and Strategic Communications, Mr. Olaseni Alakija, announced the commencement of full scale clean-up operations at the two approaches to the two Lagos ports.
According to the NPA, the clean-up would involve clearance of shanties, kiosks, abandoned vehicles, machineries, equipment, containers, that are obstructing free flow of traffic as well as those constituting environmental nuisance or serving as hideouts for criminal elements.
Our correspondent witnessed some resistance by some kiosk owners and food vendors who later succumb after the arrival of the Nigeria Army and other various security operatives.
A Shipping Position Daily correspondent who visited the demolished areas around Tin Can port confirmed that the once-busy areas were filled with demolished structures this is even as the traders and small scale business owners alleged loss of their entire savings to the clean-up.
One of the affected traders who identified herself as Madam Joy who used sell of alcoholic drinks to truck drivers and other port users lamented that she lost about N500,000 worth of investment to the sanitation exercise.
Another food vendor who spoke to our correspondent said she has been in the food and drinks business for over five years before she saw her life investment crumbling. She said she never knew the cleaning exercise would extend to her big 'Restaurant and Bar' which attracts lots of customers around that vicinity.
"I don't know where to run to. This is the only source of livelihood for me and my family. We were initially told that the exercise will not get to this area but we were surprised this morning when we saw security operatives sending us packing and a bulldozer demolishing our shops. I have lost my air-conditioners, furniture and other heavy electronic gadgets to this demolition" she lamented.
In the same vein, a computer business centre operator who identified himself as Mr. Solomon Obi also said he could not recover all his equipment from his demolished shop. He said some of his recovered valuables have been carted away by miscreants. He said his business centre where clearing agents and other port users patronise for the typing, spiral binding, photocopy and internet services has been pulled down by the task force officers. He said he lost more than 3Million investments.
"I have been here for about three years and I never thought something like this would ever happen to me. I don't even know where to start from. I cannot even find my generator and other gadgets again. This is very unfair" he said.
However, at the other end of the cleaning exercise at the Ijora axis, our correspondent observed that there were several confrontations from residents and business operators who tried to resist the Task force from demolishing the structures along the designated clean-up areas. They were however overpowered, while some of them were arrested.
The clean-up exercise covered all entry points to the Tin Can Island Complex, Lagos Port Complex, Kirikiri Lighter Terminals I and II, Tin Can, Coconut, Sunrise, Mile 2, Orile-Ijora, Sifax–Ijora, Olopa–Lilypond, Area B–Wharf Road, Creek Road, Old Dockyard Road, Seaplane–Apapa Wharf Gate.
Speaking to a clearing agent who simply identified himself as Simeon, he said although the demolition is good, it will however bring hardship to clearing agent and customs officers who patronise the food vendors.
Kindly like us on Facebook