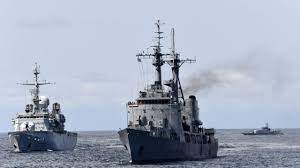 President Putin reviewed a parade of war vessels and nuclear subs in St Petersburg on Sunday and declared that Russia's Navy would receive 30 new ships in 2023.
Forty-five vessels, subs, and other vessels reportedly participated in Russia's annual Navy Day event, a traditional show highlighting military might. It was held in the Gulf of Finland and on the River Neva in St Petersburg.
Nearly 3,000 navy personnel participated in a parade on land, per Kremlin. Putin, with Sergei Shoigu, the country's Defence Minister, as well as Admiral Nikolai Yevmenov, the head of the Indian Navy, examined some of the vessels from a launch boat on the Neva before delivering a speech.
Today, Russia is confidently executing large-scale tasks of the national maritime policy and is also building up the strength of the Navy consistently said Putin. He mentioned this year alone that 30 vessels of different classes are being added to the fleet. He did not comment on what Russia calls its special military operation in Ukraine.
Four heads of state (Africa) attended the event on Sunday, and five other African countries sent out their representatives, per the Kremlin. They were reportedly invited after a Russia-Africa summit in St Petersburg that reportedly concluded on Friday, at which the delegates discussed its grain supplies and potential peace discussions on Ukraine.