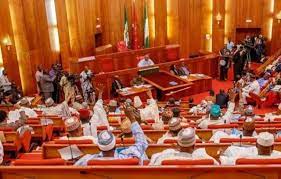 By Oluyinka Onigbinde
The Senate Committee on Marine Transport has stated that funding, budgetary allocations and revenue growth were among the challenges confronting the agencies in the maritime sector.
Speaking exclusively with our correspondent on the sideline of the oversight visit of the Committee to all the maritime agencies in Lagos last week, Senator Olubiyi Fadeyi, Deputy Chairman of the committee stated that the essence of the visit is to engage with the agencies to address the concerns and operational challenges of the marine transport sector.
He informed that during the interaction, several agencies voiced common concerns and challenges that have been impeding their effectiveness and progress.
He said funding emerged as a primary issue, with agencies across the sector expressing dissatisfaction with their budgetary allocations.
He stated that many chief executives of agencies submitted that the allocated budgets were inadequate to meet their operational needs and maintain critical infrastructure. He noted that this challenge has far-reaching implications for the efficiency and quality of services provided by these agencies.
In addition to funding, he said the agencies emphasized the need for revenue growth. According to him, with budget constraints, agencies are struggling to generate the necessary funds to maintain and improve infrastructure, provide services, and invest in modernization efforts.
The Senator quoted the chief executives as saying that the revenue-generation process is hampered by various factors, including inadequate investment and the need to attract more businesses and trade to the maritime sector.
When our correspondent asked for an update regarding the progress of the Badagry project, the Deputy Chairman expressed his disappointment in the fact that the agencies had not mentioned the Badagry Deep Seaport during the discussions with the committee.
He stressed that just like the Lekki Deep Seaport; the relevant agencies must bring information and updates on the Badagry Deep Seaport to the attention of the Senate Committee.
Also when our correspondent asked about the state of port infrastructure and the need for significant investments, amounting to an estimated $800 million. Senator Fadeyi urged the Nigerian Ports Authority (NPA) to be more proactive in promoting and showcasing their capabilities to attract potential lenders. He emphasized that the NPA should not restrict itself to just two lenders, but must actively seek out partnerships and investments to address the dire need for infrastructure repairs.
Additionally, he said there is a clear need for transparency and effective communication, particularly regarding critical projects such as the Badagry Deep Seaport, to ensure their successful development and maximize their potential contributions to the Nigerian economy.