By Joshua Yousouph
The Nigeria Shipowners' Association (NISA) has faulted the Federal Government's claim that the accrued Cabotage Vessel Financing Fund (CVFF) in the last 17 years is $350 million dollars. This is even as it set-up a committee to ensure accountability in the CVFF disbursement, election of new executives for the association and reconciliation with aggrieved members.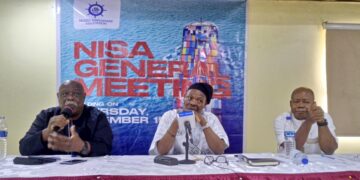 Shipping Position Daily recalls that the Minister of Transportation, Mu'azu Jaji Sambo in his speech at the send-forth of cadets under the Nigerian Seafarers Development Programme (NSDP) last weekend in Lagos, disclosed that President Muhammadu Buhari had approved the disbursement of CVFF after about 17 years in the custody of the Nigerian Maritime Administration and Safety Agency (NIMASA).
However, speaking at the association's general meeting on Thursday in Lagos, the Chairman, Board of Trustees (NISA), Chief Isaac Jolapamo alleged that indigenous shipowners would have contributed more than $2Billion as CVFF against the Federal Government's claim of $350 million dollars.
Jolapamo recalled that the association had written to NIMASA and its supervisory ministry (Ministry of Transportation) via lawyers who relied on the Freedom of Information (FoI) Act to demand the total sum collected under CVFF, yet both parties didn't reply.
He noted that a former Minister of State for Transportation, Sen. Gbemisola Saraki had revealed that the fund contributed so far was around 350 million dollars which is against figures released by previous Ministers.
Speaking further, Jolapamo said he was hinted by the members of the association that a list has already been prepared by the Federal Government containing names of organizations to receive from the fund, even as he alleged that he doubted their identity.
However, a six-man steering committee was set up by the association to ensure accountability in the CVFF disbursement, while also demanding an audit of the CVFF collection since inception in 2003.
In his words: "Last year, a letter was written to NIMASA and the Transport Ministry while Hon. Rotimi Amaechi was the Minister. NISA sought the total sum collected under CVFF because we hear confusing figures. We want the federal government to account for that money because it should be more than $2billion and I'm being conservative.
"It was because the former Minister of Transportation, State, Gbemisola Saraki that mentioned $350 million that changed the narrative. Nobody has ever mentioned a figure higher than 150, 190 million dollars but for me, who knows from the beginning an idea of how much the money is. The money is minimum, nothing less than two billion dollars. And we want to get to the root of it. Where is the money? 350 million dollars will not do us anything. It can not even buy six ships. So, if we have waited for 17 or 18 years, we should know if anybody has dipped his hands in the money. We need to get to know.
"So, if we have been contributing money for 17 to 19 years, and you are telling us it is just 350 million dollars, then something is wrong somewhere. If not for Gbemisola Saraki, they would have been sticking with the old figure. To me, I know the money is more than 2 billion dollars," Jolapamo noted.
Also speaking, Engr. Emmanuel Ilori posited that the Economic and Financial Crimes Commission (EFCC) should be invited to carry out investigation on the management or perhaps mismanagement of CVFF over the years.
Ilori lamented that ship owners were not carried along ahead of the impromptu announcement by the Minister. He however expressed his anxiety on why the government has suddenly decided to hurriedly disburse the CVFF in few weeks.
On his part, Mr. Jegede Paul stressed that it was high time all ship owners united together irrespective of their differences and associations to fight for their collective rights.
He advised aggrieved members to reconcile with the association and collectively work together with other sister associations to ensure a fair disbursement of the CVFF without any form or bias or prejudice.
"It is when we have ship owners under one umbrella that we can take a strong decision on this delicate issue of CVFF and other pertinent issues affecting our sector. Ship owners have a right to know what has been collected and if some persons have misused the fund. The federal government isn't doing us a favour by promising to disburse, but we can achieve so much more if we team up. All aggrieved NISA members as well as those in the Ship Owners Association of Nigeria (SOAN) should come together. Let's stoop to conquer," Jegede said.
With the approval of the BoT Chairman, NISA agreed to have its next election on January 26th, 2023 as the group encouraged the steering committee to reach out to all aggrieved members in order to bring them into the fold within the next two weeks before the elections.
The six man committee comprises: Edward Sowoh as Chairman, Paul Jegede as Secretary, Engr. Emmanuel Ilori, Feyisola Famutimi, Sola Adewummi, and Goke Ojo as members.
shippingposition
Kindly like us on Facebook/twitter