Russia's tanker giant; Sovcomflot is looking to sell up to one third of its fleet, in a bid to repay loans to western banks and financiers before UK and European Union governments' wind-down orders take effect on May 15.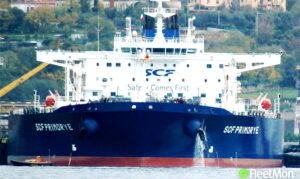 One senior industry official with direct knowledge of the deals told Lloyd's List that at least 40 of the 121 vessels Sovcomflot directly owns are being discussed with buyers from Dubai and China.
Under the terms of sanctions issued by both UK and EU governments, banks have been given a grace period to extricate themselves from Russian contracts. Both jurisdictions have set May 15 as the deadline for cutting ties.
Banks will need to receive all outstanding loans before that date, prompting Sovcomflot to sell off a significant portion of its fleet at short notice to any willing buyer outside of the scope of international sanctions.
So far, only eight ships have been confirmed as sold, with four of them known to have gone to Dubai-based Koban Shipping. However, Chinese buyers are also known to be taking on vessels and several deals are understood to be nearing completion.
Four separate finance and legal officials directly involved in separate deals have confirmed that en bloc vessel sales are under way, with more being added daily.
Sovcomflot management have not responded to requests to discuss the deals.
The company issued a statement in the past month in relation to two outstanding Eurobond issues totalling $928m, with maturities in 2023 and 2028. It made clear its intention to meet its financial obligations despite sanction restrictions curtailing its ability to make payments.
Meanwhile, all five of the International Group P&I clubs that have until now insured Sovcomflot tonnage have either terminated their contracts or are in the process of doing so, according to senior sources in the sector.
British clubs West of England, North and UK Club have all publicly confirmed the move. Norwegian outfits Gard and Skuld are officially declining to comment.
"I can't see how [SCF] can possibly trade within Europe. They are going to have a very limited trading range," said one insurer. "They are not just going to run cargo around in Russian ports. Whether they can go to China and [the Chinese] will be relaxed about it, I don't know."
Kindly like us on Facebook