Following the directive by the Nigerian Port Authority (NPA) that all trucks coming into the ports must meet the Minimum Safety Standards (MSS) requirements on or before May 22, truck owners have urged the NPA to further extend the deadline, even as they claimed to have embraced the minimum and safety standards.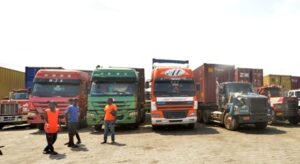 The truck owners said the deadline set by NPA to meet the requirement is not sufficient and asked for more time.
Speaking to our correspondent, Abdullahi Inuwa, a truck owner said, "whatever the case may be, I think the minimum and safety standard is a welcome idea, but at the same time we have to look to the human choice , there are a lot of policies that have been put in place, the deadline given to truck owners to meet the requirement for minimum standard is not enough, they are supposed to give enough time, he said.
Also speaking to our correspondent, the President of Women in Logistics and Transportation (WiLAT) Nigeria and Chairperson, Corporate Truck Fleet Owners Mrs. Folake George said that members of her association have started complying, adding that May 22 deadline is feasible for all truckers to comply.
"I can see that some of the truckers have started trying to comply, even if they say next year, some people will not comply, they want to use that to at least make sure eto works so that we can have limited casualties, we have told our members to comply and I believe that the deadline is achievable. I believe it's better to do the needful than to be embarrassed", she said.
NPA rescinded its earlier decision about enforcement of new safety regulation for trucks coming into Lagos ports.
Acknowledging concerns that were raised by stakeholders about the new safety measures under the electronic call-up system, the NPA in a statement issued by operators of the electronic call up; Messrs Truck Transit Park Limited (TTPL), shifted the commencement date from April 23 to May 22, 2021.
In the statement that was sighted by our correspondent, the NPA says: "After consideration of the concerns raised by truck operators on the Minimum Safety Standards (MSS) for trucks, the Authority has decided to move the enforcement date of the policy to May 22, 2021".
The NPA also acknowledged that it was introducing the new safety measures in accordance with an agreement reached with the Federal Road Safety Corp (FRSC).