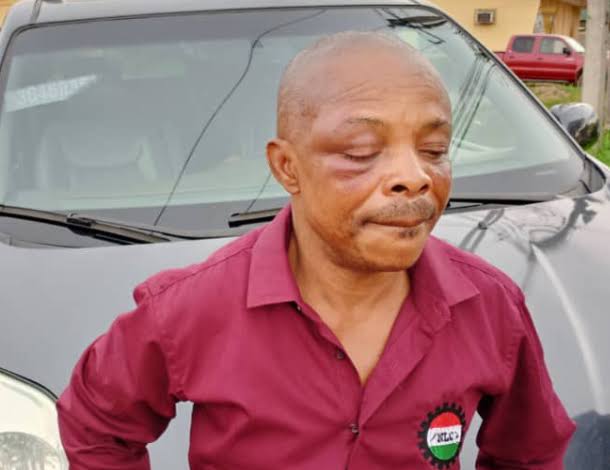 The Maritime Workers' Union of Nigeria (MWUN) has disclosed that two of its national officers are currently in the intensive care unit after a violent attack by hoodlums and miscreants at the Nigeria Labour Congress (NLC) secretariat in Owerri, Imo State on Wednesday.
In a press release issued by MWUN head of media; Kennedy Ikemefuna, the union   strongly condemned the brutal attack that took place at the state secretariat of the NLC Imo State chapter.
The union stated that the assailants, allegedly sponsored thugs unleashed chaos and violence, causing grievous bodily harm to MWUN officials, including the loss of personal property such as money and mobile phones.
The two officers currently in ICU of an undisclosed hospital are Comrade Abubakar Bello, the Vice President General of MWUN, and Comrade Abudu Eroje, the Deputy Secretary General.
The union informed that both officers sustained severe injuries during the attack and had to be rushed to the hospital for emergency medical care. As of the time of the press release, they remain in the intensive care unit, under close medical supervision.
Shipping Position Daily gathered that the incident occurred in the lead-up to a scheduled mass demonstration organized by the Nigeria Labour Congress in Owerri. As the NLC state secretariat opened its doors for business, a group of thugs arrived at the scene, with intent on prevent the planned demonstration. Their violent actions led to numerous individuals suffering severe injuries, with some requiring immediate medical attention.
The MWUN said on Wednesday that, as a social partner and affiliate of the NLC, it had expressed solidarity with the NLC's call for a mass demonstration. Unfortunately, this show of support led to its national officers becoming targets of the violence that erupted on the premises of the secretariat.
Shipping Position Daily learnt that the attack on MWUN officials is just one part of a larger, concerning narrative. Comrade Joe Ajaero, the President of the Nigeria Labour Congress, was also subjected to physical assault when he arrived at the secretariat to assess the situation. Shockingly, he was subsequently arrested by the police and taken to an undisclosed location.
MWUN in the statement made available to our correspondent unequivocally condemned these acts of violence against its officials and the NLC president, as well as the illegal arrest by the Imo State Police Command.
The union issued a strong call for the immediate apprehension of those responsible for these heinous crimes and their prosecution.